Bali showed support for Small and medium-sized businesses in Bali and around the world over the last two days.
Hosting the World Tourism Network, Summit also indicated Indonesia fully recognizes the importance of SMEs in tourism.
The Hon. Vinsensius Jemadu, Deputy Minister for Tourism Products and Events for the Indonesian Ministry of Tourism and Creative Economy Republic Indonesia focused on opportunities for Medical Tourism in Indonesia and was interested in WTNs representation by President Dr. Peter Tarlow on safety & security
Medical Tourism, Safety, Security, an MOU with Evergreen College Toronto, and the Official Opening for the Climate Friendly Travel Club were on the agenda on Saturday.
WTN Chairman Juergen Steinmetz confirmed a new task force facilitated by WTN to establish a global exchange of information and opportunities on Medical Tourism.
A new medical tourism zone in Sanur was explained as a unique model to bring forward this niche in Bali. Dr. I Gede Wiryana Patra Jaya, M.Kes. the Chairman of the Bali Medical Tourism Association( BMTA) sees this as a trendsetter for both domestic and international medical tourism.
Aviation was on the agenda with Mr Haci Ozgun, General Manager of Turkish Airlines Indonesia and Garuda Indonesia.
Neena Jabbal, Aslan Adventure Tours And Travel Ltd presented a beautiful presentation from her home in Kenya and explained the travel and tourism business from the view of an African SME Tour Operator.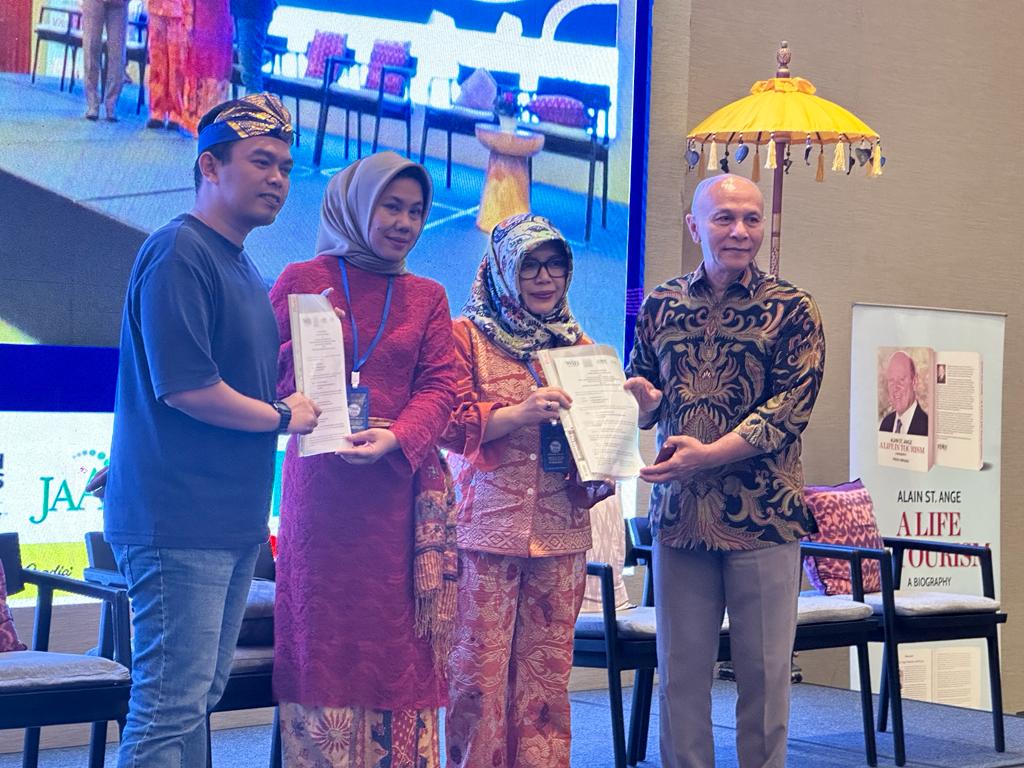 Dr. Peter Tarlow in his presentation to the Bali police chief discussed safety and security and tourism police training, giving some lively examples. His session was particularly popular.
An MOU between WTN and Evergreen College Toronto together with PATA Indonesia Chapter and PHONUS is opening new opportunities for education, and scholarships for young people interested in a career in travel and tourism.
John Gerard Brown and Professor Geoffrey Lipman officially launched the Climate Friendly Travel Club, a global initiative by SUNX Malta. This is an initiative were offsetting carbon is paying members back.
SUNx Malta launched 50 Climate Friendly Travel Chapters in the World's Least Developed Countries just three days ago.
A cooperation MOU with the Climate Friendly Travel Club was signed with the World Tourism Network on the second day of the WTN Summit at the Renaissance Bali Uluwatu Resort & Spa.
Another packed agenda for Saturday TIME 2023 came to an end and was only briefly interrupted by two coffee breaks and a delicious lunch. At 5.30 pm delegates left the resort to visit a new local art museum in Nusa Dua.
The farewell night ended with a spectacular dinner and a bang on the beach at the Cuisine Jimbaran Restaurant in Jimbaran. Coconut milk, dancing, and fireworks were on the agenda.
WTN Chairman Juergen Steinmetz said: "Thanks to our excellent team in Bali, our Indonesian Chapter under the leadership of Mudi Astuti, this event was a huge success and will bring our young global organization to the next chapter."
For more information and membership in the World Tourism Network visit www.wtn.travel