A historic memorandum of cooperation in the field of tourism was signed between the Republic of Montenegro and the Kingdom of Saudi Arabia was signed.
His Excellency, the Minister of Tourism Saudi Arabia Ahmed Al-Khateeb together with his deputy Minister of Tourism, her Royal Highness Haifa bint Muhammad Al Saud traveled to Podgorica, the Capital City of Montenegro.
Attended by the Montenegro Ministry of Economic Development and Tourism, Minister Goran Đurović, an MOU that has historical value was executed as it was the first such document ever signed between the 2 countries.
Hosted by the Hon Dr. Dritan Abazovic the Prime Minister of Montenegro the signing was witnessed by a high-level delegation from the foreign affairs ministries, and development fund, including leading staff from the Ministry of Tourism from both countries.
The co-author of the document for the Montenegro delegation was Aleksandra Gardasevic-Slavuljica. She had worked tirelessly on the document together with her counterparts in Riyadh but was unable to attend due to last-minute travel.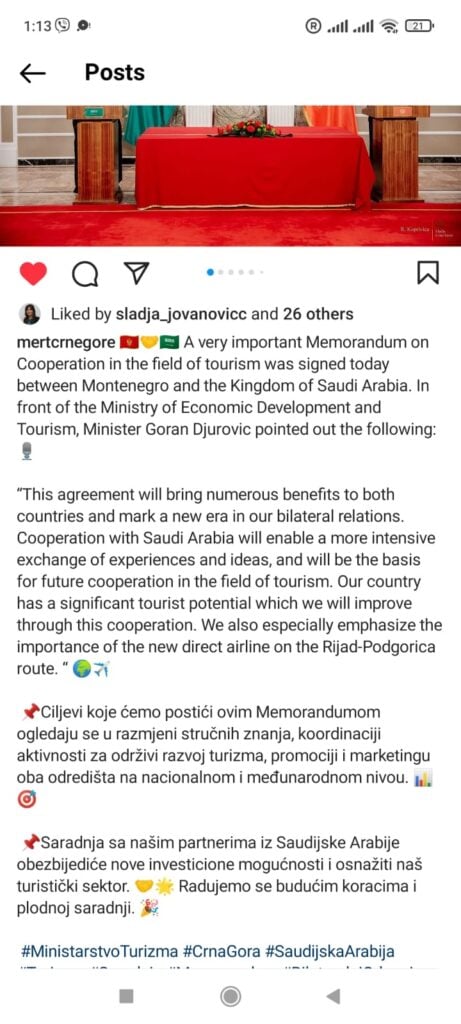 Aleksandra Gardasevic-Slavuljica is the director of tourism and Deputy Tourism Minister in Montenegro and is also a co-founder and Vice President of the World Tourism Network and receiver of the Heroes Award in tourism.
"This agreement will bring numerous benefits for both countries and mark a new era in our bilateral relations. Cooperation with Saudi Arabia will enable a more intensive exchange of experiences and ideas and will be the basis for future cooperation in the field of tourism" was posted by the Montenegro tourism minister on his Instagram.
"Our country has significant tourism potential, which we will improve through this cooperation. Also, we particularly emphasize the importance of the new direct airline on the Riyadh-Podgorica route."
FLYNAS, a no-thrill airline based in Riyadh started a non-stop air service between Saudi Arabia and Montenegro.
"The goals that we will achieve with this Memorandum are reflected in the exchange of professional knowledge, coordination of activities for the sustainable development of tourism, promotion, and marketing for both destinations at the national and international levels," the Hon Minister Goran Đurović added.
Insiders see this new cooperation will provide new investment opportunities and strengthen the Montenegro tourism sector tremendously.
"We look forward to future steps and fruitful cooperation", commented Aleksandra.
Both countries are desirable travel and tourism destinations.
Montenegro caters to both luxury and budget travelers offering breathtaking nature, scenery, and fantastic food.
Saudi Arabia is going through the fastest and most impressive travel and tourism development of any country in the world. The Kingdom is known for a growing list of mega projects bringing tourism to a different level.
Both countries are known for their unique cultures and people that emphasis on hospitality in a very special way.