Kansai prefecture's most important cities are Osaka and Kyoto. Located on Honshu, the largest island in Japan, on which the capital, Tokyo, is also situated. With great architecture, cuisine, an abundance of nature and unique world-class attractions it offers exceptional opportunities for exploration and discovery for tourists to Japan.
Taking advantage of Thai Airways (THAI) daily direct flights and their Royal Orchid Holidays (ROH) package: 'Osaka Kyoto In Your Style' we booked a 5D4N visit of some of the more interesting and 'unseen' experiences for travelers.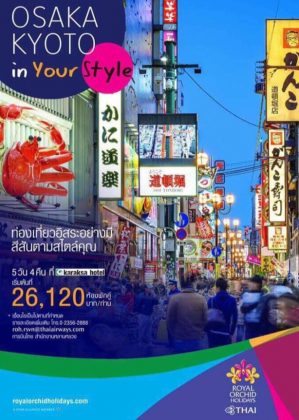 THAI's ROH package to Osaka and Kyoto is a great value package, offering special economy class airfares, 5 days 4 nights' hotel accommodation and coach transfers between airport and hotels. Staying at Karaksa Hotel in Osaka and Karaksa Hotel in Kyoto.
We flew from Suvarnabhumi Airport in Bangkok to Kansai Intl Airport. Both airports are ultra-modern and are efficient busy hubs with direct connections. After a comfortable 5-hour-and-minute flight, our arrival at Kansai (KIK) was smooth and effortless. We were processed quickly, with great precision and efficiency that is Japan's hallmark. After retrieving our luggage and passing through customs we were met by our ground operator Karaksa Tours and the lovely Ben, Jija and Ayako (Thai, Japanese and English speaking ladies).
We boarded our brand new 42 seater coach with built-in Wi-Fi and mobile charging sockets.
The weather was overcast and cold with a wind chill of close to zero degrees. We had intermittent flurries of light snow all day.
We departed to Naramachi, "Nara town" just 74 kilometers from the airport. Nara is an old merchant town with 1,300 years of history.
We left the bus at Nara, it would take our luggage directly to the hotel in Kyoto 46 kilometers north.
From here we took a walking tour and later after lunch, we would go to our hotel by train. First stop a sake distillery. Sounds right!
Walking tour in Nara – sake tasting and the Toy Museum
We tasted 6 varieties of locally produced Harushika sake. They were all served ice cold and in small colored sake glasses – which were presented to us as a souvenir at the end of the tasting. We tried traditional style sake (extra dry) and also sweeter fruit flavored varietals including strawberry and a cloudy fizzy variety that was second fermented in the bottle to give the bubbles. Considering the time of day and the fact that we had been travelling most of the night, drinking 15-40% proof rice wine at breakfast time was a challenge but we persevered!
Next stop was a tour of the old town on foot, which included stops at various small museums. The toy museum was hands down favorite.
After a brisk walk to the main shopping area. Traditional architecture was replaced with modern malls and arcades. It was here we found a Tonkatsu pork cutlet restaurant. We stopped for lunch.
The restaurant was lovely and warm, and busy. Always a good sign of good food! It was!
Delicious and freshly made the fried bread-crumbed pork cutlets were offered in a variety of ways
Refreshed and warmed we headed off to the underground for a 55-minute sleepy post-lunch train ride to Kyoto and our hotel.
We arrived at our hotel the Karaksa Kyoto, a modern 36 room hotel located across the road from the Hankyu Omiya subway exit.
It's a no frills very well designed hotel, warm and comfortable. It's ultra practical and a great use of space. The hotel is 3 months old so everything looks brand new. It's clean. I mean REALLY clean. Just fantastic. Free Wi-Fi throughout the hotel too.
The rooms are 15 square meters and have everything you need including air conditioning that pumps out both warm and cold air. I racked up the thermometer and it was lovely and cozy.
The bathroom is a model of good design. The ever-present electric loo and a small bath tub with power shower and heaps of hot water. It's a good hotel.
After a quick wash and brush up we walked to the nearby Mibu-dera temple a famous temple known for Shinsengumi and a guardian deity for children. It was established in 991.
We had an early dinner at Sakura Suisan Restaurant. A delicious dinner of Japanese favorites: sushi, sashimi, grilled yakitori (eel, beef, chicken), various hot pots, grilled fish, ice cream, cheese cake and a few hot sakes. We were full!
We retired early grateful to lie-down after being up for almost 24 hours.
After a comfortable night's sleep, we met for breakfast at 8 am.
Very good scrambled eggs and a good assortment of western and Japanese flavors.
After breakfast, a 1-hour-and-45-minute coach trip 115 kilometers to North Kyoto and Amanohashidate.
The Amanohashidate Sandbar is a beautiful, 3-kilometer long isthmus that spans the mouth of Miyazu Bay in the north of Kyoto Prefecture. It is best viewed from the mountain top.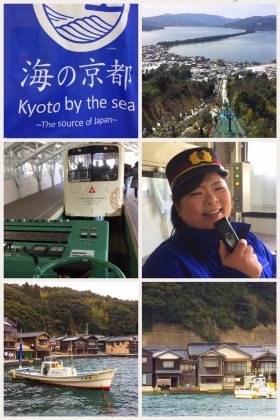 Kyoto by the sea
We arrived at the Nariaiji temple at the base of the mountain and headed up via cable car to the summit to view the famous sandbar.
Amanohashidate roughly translates to "bridge in heaven", and it is said that the sandbar resembles a meandering pathway connecting heaven and earth when it is viewed from the mountains at either end of the bay. This famous view has been admired for centuries, and is counted among Japan's three most scenic views alongside Miyajima and Matsushima.
From here the sandbar is said to look like the Japanese symbol for "1" (一). The traditional way to view the sandbar is to turn your back towards the bay, bend over and look at it from between your legs.
The narrow sandbar, which measures as little as 20 meters across at its narrowest point, is lined with nearly 8000 pine trees.
At the base once more we stopped for lunch. Buri (fish) Shabu lunch today. A winter delicacy. It was delicious
Ine fishing village
Ine is located around the Ine Bay in northern Kyoto Prefecture, about 15 kilometers north of Amanohashidate. This working town has a long and rich history as a fishing village and is regarded as one of the most beautiful villages in Japan.

Rows of boat houses 'funaya'
The town of Ine lies within the "Kyoto by the Sea" region, a traditional town making its living from the sea. The unique aspect of Ine are its funaya. Literally meaning "boat houses", these traditional waterfront buildings contain garages for boats on their first floors and residential space on the upper floors.
Here is a lifestyle which is centered on fishing and farming little changed over the years. Funaya span along 5 kilometers of the south-facing bay, 230 houses. A community in co-existence with the sea.
The scenery of the these 230 funaya standing in a row is unique and can only be found in Ine, little visited by tourists. It's a wonderful travel secret.
Afterwards we travelled to Chirimenkaido a short drive away, to see and make our own Misanga rope bracelets, a hands-on experience in a handicraft factory outlet. We took many souvenirs home.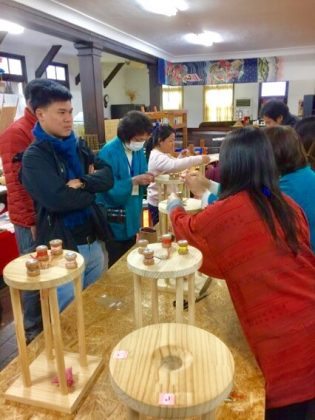 Making Misanga rope bracelets
The next day we had a very interesting tour of the Suntory brewery.
It's a huge place but only 300 people work here. In the main production facility, we saw only a handful of white-clad production staff. It's almost completely automated. The whole place is spotless and super impressive.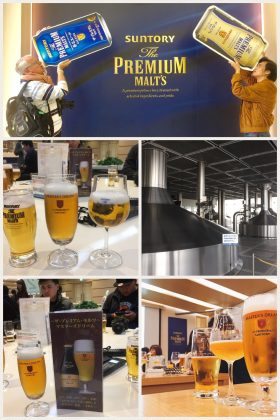 Suntory Kyoto Brewery
The tour starts with a 15-minute DVD introduction (English commentary on audio sets). Next, a smartly attired lady guide with a happy personality conducts the factory inspection. She leads our group across the street, up an escalator into a huge room containing stainless steel vats and starts her presentation by passing around malt grains, which impart a wonderful umami taste and hops, with their distinctive pungent aroma.
The guide briefly explains about the various processes the beer goes through as we crowd around each window, overlooking shiny, silver-colored pipes, cauldrons and machinery. We board the bus to get back to the reception building for a beer tasting! A great tour.
After the brewery, just a short drive away, we stopped at a most famous temple – Nagaoka Tenman-gu Shrine which is located in Nagaokakyo-city, Kyoto Prefecture.
We all rubbed the lucky animal nose for good luck and made our respects at the shrine.
After the temple, we drove to Osaka to visit the Maishima Incineration Plant that handles twenty per cent of the city's garbage. Not so exciting you think? It was brilliant! The plant is totally geared-up to handle tourists and educational visits.
The building exterior was designed by Viennese architect Friedensreich Hundertwasser and is absolutely jaw dropping. I love it! It's eclectic, modern and fun.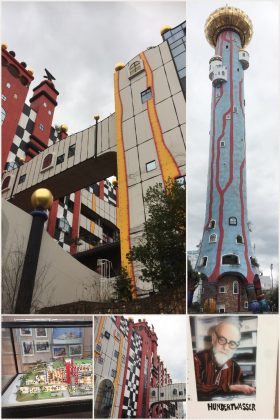 Maishima Incineration Plant, Osaka
Colorful, bright and totally eccentric it felt like a cross between Disneyland and a sci-fi movie set.
The plant sorts and separates the garbage. Metals for instance are separated and sent to a smelter plant. Much of the rest is burnt reducing the mass by eighty-five percent. All gases and residues are scrubbed clean and the heat generated from the incinerating process is used to make steam. The steam then drives turbines which in turn pump out 32,000 kW of electric power.
Forty percent of the electrical energy is used by the plant. The rest sold to the grid and the proceeds used for charity projects.
After the garbage plant visit we headed into Osaka for a quick dinner and shopping in the famous and iconic Dotonbori walking street.
For dinner, we chose a very popular Ramen house. We queued to get in (always a good sign).
On the ground floor, you pay and order your food FIRST using a ticket/vending machine. You feel a bit stressed at this point but persevere as the rewards are worth it! The staff excitedly shout and gesticulate to move the queue quickly on, but not reading Japanese it took us twice as long but with help from Ben, our guide and mentor, we succeeded and were ushered upstairs to the 4th floor via one small cramped lift.
The Ramen noodles were great! The broth very tasty. I ordered a soft-boiled egg with mine. The egg arrived first and noodles and ice cold beer shortly after. The egg came with instructions on how to peel it
After dinner, a walk through Dotonburi, it looked as though half the population of the city were here.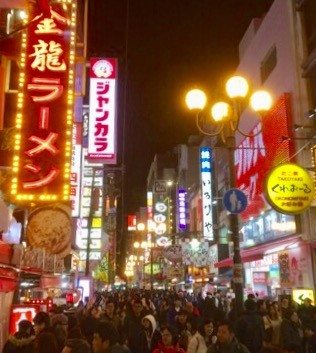 A great walking street with lots of energy, people, noise, aromas, music, vendors, shops and food in abundance. It had a real buzz. As it was getting dark people were on the move. The area was alive.
Our hotel in Osaka was the Karaksa Hotel a sister property of our hotel in Kyoto. It was perfect for our 2nt stay. It was spotlessly clean and warm and comfortable. The front office team were friendly and very helpful. The bedroom layout and facilities are identical to the Kyoto hotel so we were already familiar with the room from the moment we stepped inside.
The next day we drove to south Kansai, near Wakayama City, the home of Japan's most unusual shrine. Awashima-jinja or the "Doll Shrine".
As Japanese believe that dolls have a soul and power to influence human lives, they tend not to throw them in the garbage. Instead, they bring the dolls to the shrine to wait for a festival each March.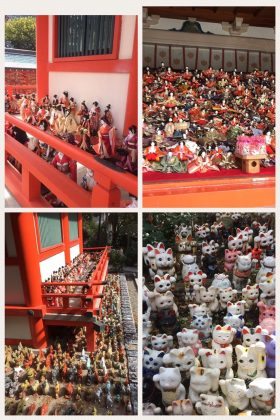 Awashima-jinja or Doll Shrine
There is an old folklore in Japan that says that dolls house spirits, and these spirits will seek revenge if they're discarded like common garbage. To properly dispose of an unwanted doll, the owner must take the doll to Awashima-jinja and offer it to the temple. The priests purify and pacify the spirits to keep them from returning to this world. The priests then perform a large burning ceremony on a ceremonial pyre located at the shrine. The thousands and thousands of figurines that line the shrine's grounds are given up here in the hope that their souls will be put to rest and will not come back to haunt the former owners.
On the third of March each year, during Hina-matsuri (Doll's Day), Awashima-jinja hosts a special festival for the dolls. The most beautiful dolls are put aside. They are not burnt but put into a boat that is released into the ocean. It is said to bring good luck and fortune to those who once owned them.
While the shrine is most famous for the rows and rows of dolls, any figurines can be donated. The shrine is strictly divided into different areas belonging to different dolls. There are sections for traditional masks, tanuki statues, zodiac statues, Buddha statues, and many more.
Due to the shrine's status as a fertility shrine as well as a dolls shrine; there is a section dedicated to panties and phallic statues donated to help with gynecological diseases, fertility issues, and safe deliveries.
After the Doll Shrine, we had an amazing Puffer Fish lunch at Ishiki No Aji Chihirot Restaurant. Located in Wakayama south of Kansai Airport (KIK). It was served raw, deep fried and shabu. It was delicious. Chefs train for years before they are licensed to prepare these fish for human consumption – removing skillfully the poisonous tract, if eaten, it can be deadly.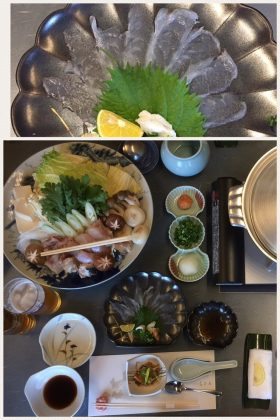 Puffer fish 3 ways
The deluxe set lunch menu was a great lunch experience and delicious. No-one died!
Afterwards we head to a local railway station to travel on the Tama Den cat train from Idakiso to Kishi (12 minutes and 7 kilometers). It is located west of Wakayama City.
A train station with a cat as the station master. The only one in Japan! All the hallmarks of Japanese cute; kitschy and wacky. The station receives hundreds of visitors every day. Everyone jockeying to get a picture of this most famous cat.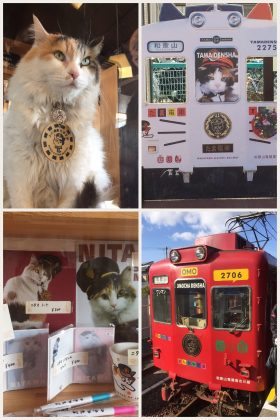 Tama Den cat train
With a huge following and regular TV appearances there are t-shirts, mugs, fridge magnets and much more – literally a shop full of memorabilia for the 'fans' to buy.
The last stop of the day was strawberry picking at Sakura Farm. All-you-can-eat, with condensed milk. I managed to eat about a kilo in 30 minutes then stopped. I saw in a supermarket they were selling medium-sized strawberries.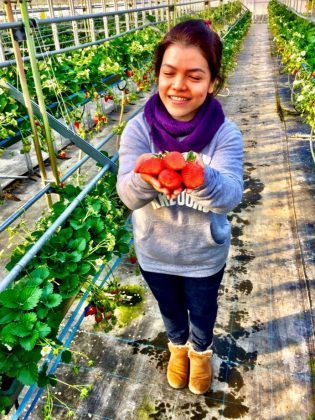 Strawberry picking in February near Osaka
Wakayama, prefecture is agriculturally rich, especially fruits. It's now the beginning of the strawberry season. They were good and it was fun. It was warm too in the plastic greenhouses.
It's our last day and we set off for a unique cooking class at a local Japanese house 'Uzu Makiko Decoration'. We learnt the art of maki sushi decoration – "maku", which means "to wrap/roll" usually in seaweed.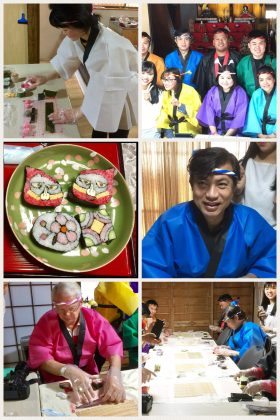 Maki sushi 'cooking' class
We all enjoyed the whole morning making these artistic maki sushi before we ate them for lunch!
Wi-Fi in Japan
We were using Wi-Fi routers from WiHo, Thailand for our trip to Japan. They worked perfectly.
Wi-Fi on the move by WiHo
They are currently the no.1 provider of pocket Wi-Fi rental service in Thailand, with over a million users, in Japan, US, Taiwan, Hong Kong, China, Singapore and Myanmar as well as Thailand.
The service is as easy as 1-2-3. You can order on line or at the retail shop and arrange to pick up either there (Berry Mobile at Sukhumvit 39 Bangkok), or at the airport.
Rental charge includes unlimited use, and the unit can be returned one day after arrival.
It's the size of a small mobile phone. To use you simply turn on Wi-Fi on your handset and select WiHo and enter your password. Up to 4 users per unit – so it's great for families and groups.
The unit comes with its own charger. The battery operates for nine hours.
I'm a fan and I can definitely recommend the equipment. It's reliable and convenient, exactly what I need when I'm on the move.
Visa exemption
Japan has visa exemption arrangements with 67 countries. Please click here for details.
Thai Airways International (THAI)
THAI (TG) have direct daily flights to Osaka, Japan. Travelling from Bangkok's Suvarnabhumi Airport (BKK) to Osaka's Kansai International Airport (KIK), journey time is just 5.5 hours.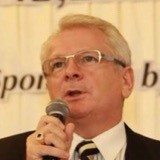 The author, Mr. Andrew J. Wood, was born in Yorkshire England, a former professional hotelier he is a Skalleague, travel writer and director of WDA Co. Ltd and its subsidiary, Thailand by Design (tours/travel/MICE). He has over 35 years of hospitality and travel experience. He is a hotel graduate of Napier University, Edinburgh. Andrew is a former board member and Director of Skal International (SI), National President SI THAILAND, President of SI BANGKOK and is currently Director of Public Relations, Skal International Bangkok. A regular guest lecturer at various Universities in Thailand including Assumption University's Hospitality School and most recently the Japan Hotel School in Tokyo, he is a committed mentor to the industry's future leaders. Due to his extensive hospitality and travel experience, Andrew as a writer is widely followed and is a contributing editor for numerous publications.