The World Tourism Network is pleased to support this upcoming concert from Maui with an all-star cast. This rare three-hour treat of the most popular Hawaiian Music songs will be live-streamed from the Grand Wailea Waldorf Astoria Resort in Maui on Saturday. Those that want to support Lahaina and Maui worldwide will be able to listen to and watch on TravelNewsGroup publications, including eTurboNews.
When?
Saturday, August 19, 2023.
American Samoa: 11.30-14.30
Hawaii Time: 12:30–15.30
Alaska: 14.30-17.30
PST: California, BC: 15.30-18.30
MST: Colorado, Mexico City: 16.30-19.30
CST: Chicago, Texas, Jamaica, Peru, Colombia: 17.30–20.30
EST: New York, Florida, Barbados, PR, Chile: 18.30–21.30
Argentina, Brazil: 19.30–22.30
Cabo Verde: 21.30–00.30
Iceland, Sierra Leone: 22.30-01.30
Ireland, UK, Portugal, Morocco, Nigeria: 23.30- 02.30

Sunday, August 20, 2023
Sweden, Germany, Italy, South Africa: 00.30-03.30
Greece, Turkey, Jordan, Israel, Saudi Arabia, Qatar, Egypt, Kenya : 01.30-04.30
UAE, Seychelles: 02.30-05.30
Pakistan: 03.30-06.30
India: 04.00- 07.00
Nepal: 04.15-07.15
Bangladesh: 04.30-07.30
Thailand, Jakarta: 05.30-08.30
Singapore, China, Malaysia, Bali: 06.30-09.30
Japan, Korea: 07.30-10.30
Guam, Sydney 08.30-11.30
New Zealand: 10.30-13.30
Samoa: 11.30-14.30

Wiwoʻole in native Hawaiian means 'fearless, brave, bold, and courageous.'
In this historic occurrence of unprecedented and catastrophic loss after the fires in Lahaina, the unifying and healing power of mele (music) has summoned Maui's celebrated recording artists and hālau to gather for the Wiwoʻole Maui Benefit Concert (Livestream) from the Grand Wailea, A Waldorf Astoria Resort in Maui.
Wiwoʻole #MauiStrong is dedicated to raising essential disaster relief funds urgently needed to support and sustain the victims of the August 8 Maui wildfires that affected communities across the island and devastated the historic town of Lahaina (traditionally known as Malu'ulu'olele).
Lahaina, originally a small fishing village, holds significance to Hawai'i as it was chosen by King Kamehameha II, to be the revered royal capital of the Hawaiian Kingdom from 1820-1845. Today, the Lahaina wildfire is now the deadliest in U.S. history in more than a century.
Wiwoʻole Maui Benefit Concert (Livestream), presented by Grand Wailea, The Office of Hawaiian Affairs, KITV4 News, Pacific Media Group, and emceed by, Malika Dudley. will be live-streamed worldwide on August 19, 2023, from 12:30 p.m. – 3:30 p.m. Hawai'i Standard Time on this platform and www.kaainamomona.org
Proceeds from Wiwoʻole #MauiStrong will be stewarded through Native Hawaiian 'Āina Momona at WIWOʻOLE MAUI BENEFIT CONCERT and the Maui Strong Fund at The Hawai'i Community Foundation
Participating Artists include GRAMMY® and Nā Hōkū Hanohano Award Winners: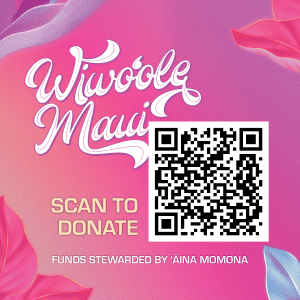 'Āina Momona is a grassroots-based and Native Hawaiian-led organization that focuses on environmental resilience and social justice. Funding raised from Wiwo'ole will go to support Maui wildfire relief efforts by helping support and empower the impacted community as they navigate this tragedy. Funding will also support resilient rebuilding efforts.
Hawai'i Community Foundation (HCF)
The vision of the Hawai'i Community Foundation is to create an equitable and vibrant Hawai'i in which all our Island communities thrive. With our more-than-105-year history, our trusted expertise, and the generous support of donors, we are working to address the root causes of our state's most difficult challenges, including expanding access to affordable housing, conserving freshwater resources, and ensuring the healthy development of Hawai'i's young children.
They focus our efforts through the CHANGE Framework, which identifies six essential sectors affecting the overall well-being of these islands and their people. HCF works in communities across Hawaiʻi, with offices and staff located statewide. In 2022, HCF stewarded more than 1,100 funds, established by individuals, businesses, and organizations who share our passion for a better Hawai'i. We distributed over $87 million in grants to the community from funds at HCF, contracts, and private foundations statewide, including scholarships assisting more than 1,000 Hawai'i students.
The Office of Hawaiian Affairs (OHA)
Established by the state Constitutional Convention in 1978, OHA is a semi-autonomous state agency mandated to better the conditions of Native Hawaiians. Guided by a board of nine publicly elected trustees, OHA fulfills its mandate through advocacy, research, community engagement, land management, and the funding of community programs.
Local Matters. We look to continue delivering superior, measurable results for our customers while serving our listeners, airport arrivals, and web visitors with a reputable, trusted voice. We know our community across the islands matters, which is why our employees, customers, and clients have equal consideration with each decision we make. With our hard work, creativity, and incredible reach, positive solutions can lift Hawai'i to new heights.
Grand Wailea, A Waldorf Astoria Resort
The iconic resort consistently ranks among the world's best in leading travel and consumer reports. Nestled on 40 acres of lush, tropical gardens fronting Wailea Beach, Grand Wailea provides a range of vacation experiences: open spaces for the active vacationer, beauty, and seclusion for romantic getaways, and family fun with rope swings and a jungle-style river pool.
Guests also have access to a new, intimate spa experience Mōhalu Healing Garden & Beauty Lab, as well as eight restaurants, including the newly renovated Botero Lounge at the heart of the resort, and its latest oceanfront Italian dining addition, Olivine. Grand Wailea's plush accommodations include its newly renovated 777 rooms and 57 suites, as well as an enclave of 50 luxury villas at Hoʻolei that each span at least 3,200 sq. ft., located nearby with access to Grand Wailea amenities.
For reservations and information on what is currently available/open on the property, please call 1-800-888-6100 or visit www.grandwailea.com.