Some of the 16,000 World Tourism Network members from 133 countries are joining the ongoing and spectacular celebration for World Tourism in Saudi Arabia, others are on their way to Bali to be part of TIME 2023, WTN's first global summit recognizing the importance of Small and Medium Size Businesses in the global travel and tourism industry.
In Bangladesh, and organized by the WTN Bangladesh Chapter, WTN Chapter Chairman H.M. Hakim Ali showed his own support for WTD 2023 – WTN Bangladesh style.
In celebration of World Tourism Day 2023, the World Tourism Network (WTN) Bangladesh Chapter gathered this morning in Dhaka, emphasizing this year's theme: "Tourism and Green Investments." Mr. H.M. Hakim Ali, Chairman of WTN Bangladesh Chapter, delivered a profound address, highlighting the global significance of tourism as the largest industry and its ever-increasing prominence.
Mr. Ali elaborated on the theme, emphasizing the crucial role of sustainable tourism within the context of "Tourism and Green Investments." He passionately advocated for responsible tourism practices that prioritize environmental preservation and the mindful use of resources. Mr. Ali underscored the significance of sustainable initiatives, which can contribute to a more environmentally friendly tourism sector, fostering both economic growth and environmental well-being.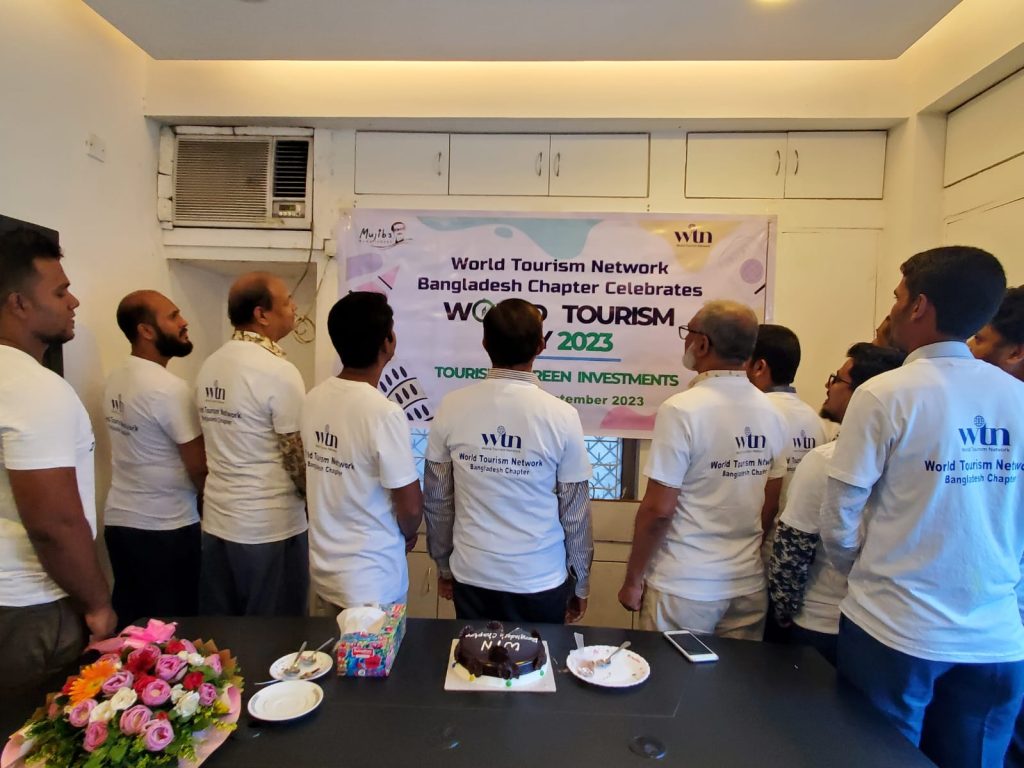 While the world came together to observe World Tourism Day, Saudi Arabia took center stage as the host country for this year's festivities. Representing Bangladesh at the official program in Saudi Arabia was Mr. Md. Mahbub Ali, Honorable State Minister of the Ministry of Civil Aviation and Tourism. His presence underscored Bangladesh's commitment to promoting sustainable tourism on the global stage.
In Dhakka, the WTN Bangladesh Chapter organized a delightful tea party, fostering camaraderie and strengthening community bonds. It was a moment for everyone to come together and celebrate the beauty and significance of tourism on this special day.
Here's to a world united through travel and the enriching experiences it offers.
WTN Global Chairman Juergen Steinmetz congratulated Mr. Ali and all WTN Bangladesh Chapter members for joining the celebration, showing solidarity, and recognizing the global importance World Tourism Day has throughout all segments of our creative peaceful, and profitable industry.