eTurboNews publisher Juergen Steinmetz just attended the Global WTTC Summit in Riyadh, Saudi Arabia
Steinmetz: About WTTC, Riyadh, and Saudi Arabia
I met so many delegates attending the summit saying they are impressed and it was the first time in Saudi Arabia. For me, it was also my first time, and I came with a certain fear.
WTTC should have done a better job
Yes, saying the Ritz Carlton Riyadh and its state of the art Convention Center was impressive is a clear understatement. But I think WTTC should have done a better job convincing visiting delegates from a record number of countries to add a few days after this world summit, so they could leave with a little more knowledge and understanding about the gracious host country.
I decided to extend my stay for 4 days. It was an excellent decision after an already eye-opening travel and tourism event.
After the summit, I moved from the Radisson Blue to the Hyatt Regency Hotel. This also was an excellent decision.
My conception there was not much entertainment and music in Saudi Arabia was proven wrong when Enrique Iglesias was the shining star at the WTTC Gala Dinner. When I heard about a huge electronic dance music festival that was held over the weekend in the heart of Saudi Arabia, my conception of a ultra-conservative KSA was put in question.
S – Pop Music in Saudi Arabia
Korean tourism ambassador Madam Dho arranged for the former UN Secretary-General Ban Ki-moon to be the keynote speaker, and days after the WTTC summit surprisingly a Saudi and Korean creative team of songwriters and producers is working on establishing S-Pop in Saudi Arabia.
The Saudi Ministry of Culture signed a Memorandum of Understanding (MoU) with a global company to develop Saudi pop music, to be known as S-Pop.
Sustainable tourism, and climate change, together with billions invested to develop a healthy, unique, and amazing destination, while keeping traditions alive, seem to be the modus operandi for the outspoken minister of tourism for the Kingdom.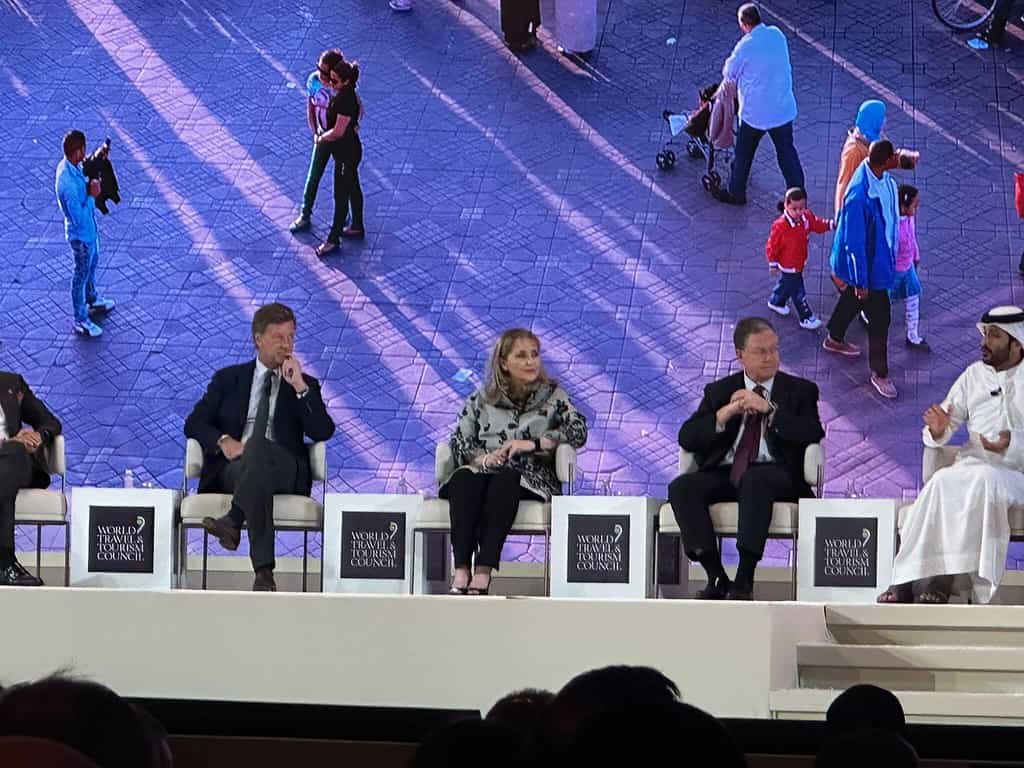 Tourism is still under construction, better under rapid development. Some of the most amazing projects and hotels are already finished, but there is so much more to come.
There are not enough tour guides in Riyadh, but thanks to the Saudi Tourism Authority, I managed to explore the capital city – and I was impressed.
Non Alcoholic Drinks
I don't drink alcohol, and there is no alcohol in the kingdom, but I had some of the most exotic nonalcohol drinks in some of the most hip bars in the world. This was in Riyadh, a country showing its own unique way to solicit and party.
Malls in Riyadh
The Kingdom Center Tower and Riyadh Park Mall were the best shopping malls I visited.
I saw Starbucks and other coffee places with huge areas of plush white leather couches. I visited name-brand restaurants including PF Chang, the Cheesecake Factory, and more designer stores you see anywhere else on this planet.
So many young people have a great time. I saw so many couples with children. Saudi Arabia is a young country, with 60% of the population younger than 30 years old. Saudi Arabia is also ready to take an important place in global tourism.
Riyadh is a safe city. If you follow local traditions and follow Muslim religious restrictions, it will not be difficult to travel to Riyadh safely. Mugging is unknown.
I visited the Old Town, the Souks and no one is chasing you to buy anything. Very civilized, and everyone is ready to help and assist without expecting anything in return.
The Line: The Neom Project
I saw some of the most amazing projects in the making. Visiting the Line Presentation was breathtaking. The Line, in the kingdom's north-west Tabuk province, is a 170-kilometer-long, 500-meter-tall city designed to house nine million people. It will have a mirrored facade. It is one of a series of projects that make up the $500 billion Neom project, a futuristic city with mixed-use development, containing spaces for work, play, and living.
The special guide assigned to me explained the Line Project. He knew it all. He was able to share his excitement with me and told me he loved his job.