Women compete… for males
Professor Lisa Wade (Occidental College), the author of Gender: Ideas, Interactions, Institutions (2014), determined that in the 1920s, as more Americans moved to cities, courtship moved from the home to establishments that cost money, like cabarets and nickelodeons. Men were the ones with the money, and women "had to start appealing to men to get men to pick them" for dates so women started wearing makeup. Companies selling makeup realized they could make twice as much money if they could sell to men; however, it did not happen as gender ideology beat capitalism in this competition. Gender is all about maintaining the idea that men and women are different. Wade determined that, "Anything that we do that undermines distinction is a real threat to male superiority."
Feminists have debated the politics of makeup for women, weighing the opportunities for experimentation and self-expression against the pressure to conform to a certain standard of beauty. This pressure is being felt by "girls" as young as 8 y/o. The Renfrew Center Foundation determined young girls wear makeup earlier than ever before and 58%, or about 3 in 5 of surveyed young girls (aged 8-18) wear makeup, 28% started wearing makeup after their 16th birthday, and 27% of young women never leave the house without wearing makeup.
Cosmetics sell regardless of age
Aging does not stop the use of makeup/skincare. Anti-aging products, especially those with anti-oxidizing elements of Vitamin C/E, are expected to grow in value by 5.8% and by 2026, the global anti-aging cosmetics industry is estimated to reach $60.26 billion.
In a 2019 research study, author Kyoung J. Baek (Department of Beauty Art, Jeonghwa Arts College, Seoul, Korea) determined that the New Seniors (aka Baby Boomers, born 1955-1963) wore makeup to "achieve a neutral base rather than beautifying their face." They are using it to contrast the effect of aging and make them look younger rather than prettier.
To reach this target market, the marketing strategy must include training in makeup techniques as seniors need to learn how to apply eye makeup that minimizes saggy eyes, clean eyebrows and hacks to get lip makeup to last longer.
What sells
In the 18-34 y/o group, women say their number one beauty necessity is mascara (Lab42). In second place? Foundation! More than 8 in 10 millennial women (81%) determined that sunscreen protection is important in their foundation, with 86% stating that SPF is also important in their moisturizers.
Incentives
Free. Free. Free. It appears that free samples are seductive and more likely to encourage a purchase.
Yes, discounts are appreciated, but for millennial women, samples spur sales.
Approximately 3 in 4 (72%) have received a free gift with a previous makeup purchase. Of these, 54% postponed a makeup purchase in order to receive a free gift at a later date. For discounts, women head to social media where 45% make a purchase following a discount offer. 68% (2 in 3) prefer to purchase their favorite brands rather than a less expensive product even when finances are tight.
What cosmetics deliver
Because it can be applied so quickly and is relatively easy and are inexpensive compared to other more drastic measures such as diet, exercise, or cosmetic surgery, cosmetics have become an easy way to measure up to the standards of beauty enforced by society. Research finds that consumers wear makeup because they believe it makes them appear more attractive and feminine which translates to being more positive in their interactions with others and likely to improve their earnings. When women feel more attractive their self-esteem increases, they feel better, and are likely to be more successful in life, including improved work opportunities, and attracting romantic partners.
Not all stereotypes of women wearing makeup are positive. There are studies that find that when women wearing makeup were compared to women not wearing makeup, the women wearing more makeup were perceived as sexually available. Therefore, women selecting makeup for its benefits may unintentionally lead others to make stereotypical inferences about their sexual activity, a quality for which women are judged more negatively than men. Women perceived to be more sexually active may become objectified or have their value based on their physical attributes or body parts rather than as a person with intelligence, a functioning brain, etc.
Does it have a function
Makeup is widely used by women throughout the world. It dates back thousands of years with origins in multiple locations. The reality that the acquisition and use of the products requires time and resources, as well as skills, the ubiquity and longevity of makeup is unique and noteworthy. This observation suggests that makeup is not accidental behavior but actually serves a function…what function? Undetermined. It stimulates three of our senses: touch (encompasses all sensations from the body surface); smell (fragrance), and sight (process of becoming and looking beautiful). This stimulation can induce sensory as well as psychological pleasure.
Another theory questions whether women are wearing makeup as camouflage or for seduction (Vanessa Van Edwards, Scienceofpeople.com/makeup). Women wearing makeup for camouflage tend to be anxious, defensive and emotionally unstable while women wearing makeup for seduction were more sociable, assertive and extroverted.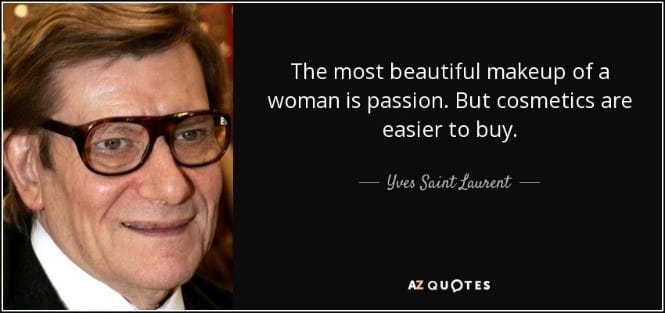 The outcome of the study revealed that makeup may have functional implications and motivations beyond the "makeup process." From the beginning of life, females are told that to be successful (dating, job interviews, friendships, marriage, success), they had to be pretty. According to the Association for Psychological Science, attractive people are treated more favorably in every area of life, from dating to jobs to criminal trials. In reality, this is not entirely true, but the skill sets necessary to be "successful" are beyond the scope of this report.
A beautiful future
The beauty business is a multibillion – dollar industry that evolves as consumers search for new colors, texture, features, advantages and benefits. The challenge is to meet and frequently exceed the wants and needs of this complex market. The market research firm WGSN predicts:
Clean beauty will include clean color makeup
Men's makeup will gain increased traction
"No makeup makeup" will be reinvented for 2024
The "look" will be more natural and identified as "soft sculpting"
The next generation of lipsticks will focus on positivity and boosting mood.
The beauty industry (including skin care, color cosmetics, hair care, fragrances, and personal care) was impacted by the COVID-19 crises. At the beginning of the pandemic, sales declined and many stores closed.
The industry responded by shifting manufacturing to produce hand sanitizers and cleaning agents, offering free beauty service to frontline response workers, moving sales to online opportunities and increasing education, information and promotions via social media.
The importance of the industry cannot be underestimated as it generates billions in sales a year, is responsible for millions of jobs (directly and indirectly) and is a global economic engine.
The pandemic has morphed the definition of "beauty," making it more global, expansive and integrated with an individuals' sense of self and well-being.
To address this dynamic economic sector, the author has developed this three-part series. This series takes a look behind the curtain to determine the current condition of the industry.