If anyone in global tourism has shown leadership and resilience during impossible times, Dov Kalmann, a World Tourism Network Member and Tourism Hero will go into the history books of tourism resilience.
As the founder of Terranova Tourism Marketing Ltd he took the initiative and invited his partners from the tourism community in Israel to participate in an Online Travel Trade Conference yesterday. This was the first high-level discussion among private industry leaders in the Israel travel and tourism industry.
Well-known leaders of the Israeli and Global Travel Industry joined as Keynote Speakers and shared their experiences, assessments, and recommendations.
This is the time to unite and join forces, manage resources wisely, and design new clarity for the entire tourism industry, in Israel and around it.

WTN Hero from Israel Dov Kalmann
Together, we will overcome.
The event entitled "Sense of Security" will become a key factor in Israelis' Choice of Travel Destinations.
Israel Tourism Survey
A comprehensive survey in the tourism and aviation sector conducted this week by Terranova reveals that for the majority of the Israeli tourism industry, the "sense of security" will become a central consideration for Israelis when choosing their future travel destinations.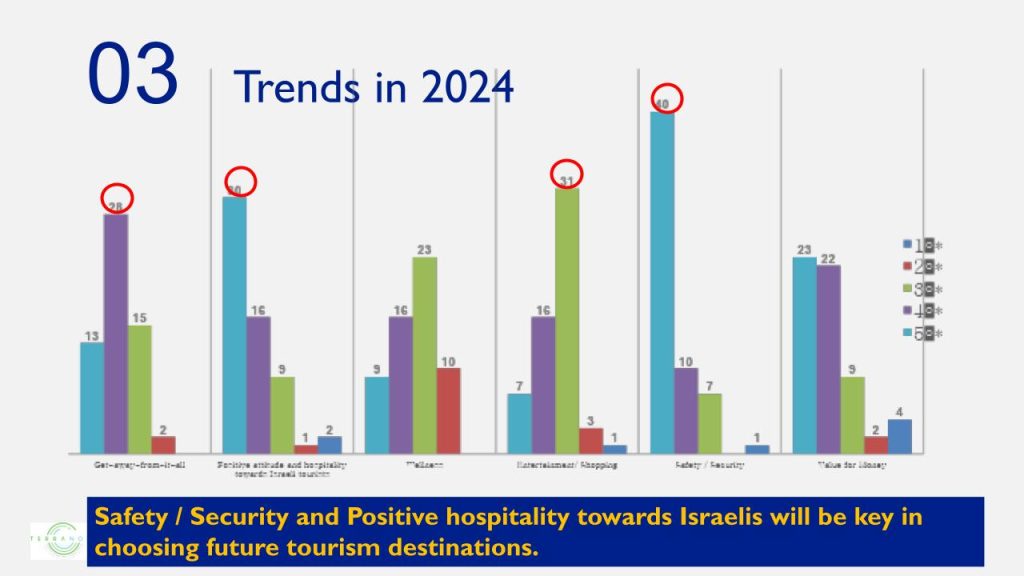 Another significant factor highlighted by industry professionals is a "positive attitude towards Israelis in the destination country.
" According to the survey, these considerations will take precedence over factors that were central until now, such as "value for money", "entertainment and shopping," or "wellness".
A surprising finding in the survey is that 25% of the tourism sector professionals believe that the recovery in the number of bookings for foreign travel will occur during the war in Israel and before it ends.
Another 34% believe that recovery will take place within two months after the war, while the rest either think it will be later than that or are unsure.
Regarding their attitude towards airlines, 40% of those in the industry believe that Israelis will prefer to book their post-war holidays with Israeli airlines, even if foreign airlines offer more competitive prices.
53% believe that Israelis will have a favorable memory of two foreign airlines that continued to operate flights from Israel during the war:
"Fly Dubai" and "Etihad".
The event was attended by approximately 200 key industry professionals and high-ranking officials from National Tourism Organisations, represented by Terranova in Israel.
During the conference, tourism experts expressed optimism about the expected recovery rate of Israeli tourism.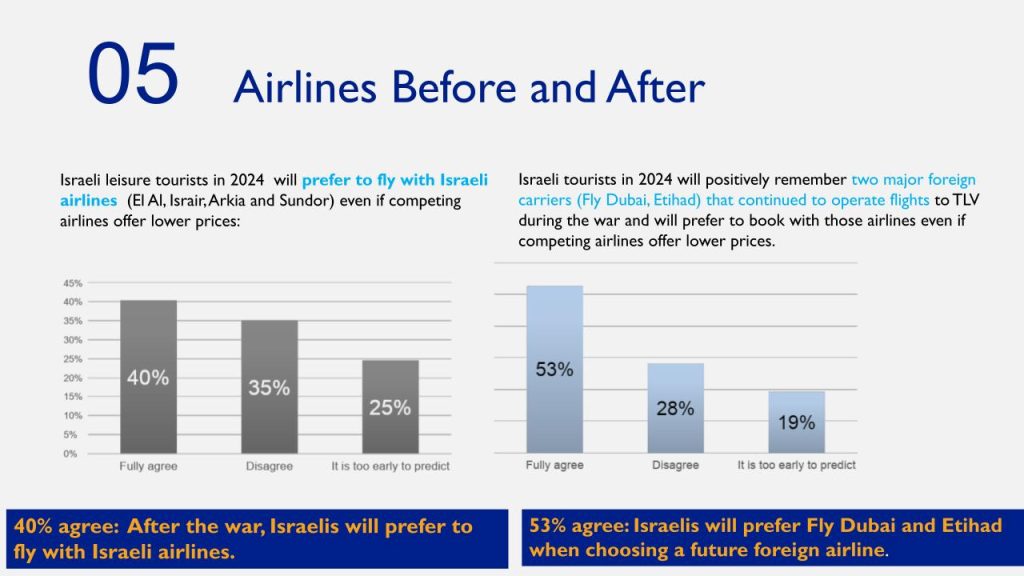 For example, Ran Pollak, Sales Director at the national airline of Abu Dhabi "Etihad," stated that Etihad continued to operate the daily flights to Abu Dhabi, but with bigger aircraft.
He mentioned that the bookings are steadily increasing, indicating the significance of travel to Israelis.
Tali Laufer, CEO of the Israeli Tourism Association, anticipated a full recovery of tourism after the crisis.
Participants in the conference also noted a prominent trend of tourists returning to using travel agents' services as opposed to independently booking vacations.
A decline in organized tours is expected since these Israeli groups might have a higher security risk compared to individual Israelis.
As for future developments in tourism, several conference speakers foresee a growth in Israeli tourism to destinations like Greece and Thailand but also to "friendly" East European destinations like Hungary, Austria, Czechia, Bulgaria, and Lithuania.