When HE Ahmed bin Aqil al-Khateeb, the Saudi Arabian minister of tourism hosts a global tourism event in his country there is no doubt- it will be spectacular.
World Tourism Day on September 27-28 in the Kingdom of Saudi Arabia is the place to be on the most important day setting the direction for world tourism.
World Tourism Day 2023 will be a call to action for the international community, governments, multilateral financial institutions, development partners, and private sector investors to unite around a new tourism investment strategy.

"Investing in People, Planet, and Prosperity' is the theme set by UNWTO for World Tourism Day."
Investing in people is also important to Hon. Sandiaga Uno, Minister of Tourism and Creative Industries in Indonesia. He will be the host of TIME 2023 in Bali from September 29–30, recognizing the role small and medium-sized businesses in global travel and tourism have in the world.
Those who recognize the importance of small and medium-sized businesses in travel and tourism are encouraged to attend another spectacular event when boarding SAUDI ARABIAN AIRLINES to fly to Jakarta and on to the Island of Bali.
The Hon. Minister Edmund Bartlett from Jamaica, who is the man behind the UN Tourism Resilience Day will be one of the passengers to fly from Riyadh to Den Pasar, Bali, to travel from World Tourism Day to the World Tourism Network's first Executive Summit TIME2023.
The minister, together with Prof. Lloyd Wallec, CEO of the Global Tourism Resilience Crisis Management Center in Jamaica, will open the first Global Tourism Resilience Center in ASEAN, located in Bali, at TIME 2023, together with his counterpart from Indonesia.

The World Tourism Network has become an important global voice for Small and medium-sized global travel and tourism businesses (SMEs). Their members will meet in Bali for their first global executive summit to extend the World Tourism Day celebration and advocate that SMEs matter.
"World Tourism Network is about generating business, and members are associates", says WTN founder and Chairman Juergen Steinmetz.
With a growing network of regional chapters, the World Tourism Network is a good platform to lobby for local initiatives with a global network ready to take advocacy and ideas to a global level.
Exchange experiences, success stories, and challenges have never been that easy with the global connections this young organization is bringing to the world of tourism.
With the support of an increasing number of public sector members, including the Ministry of Tourism for Montenegro, tourism boards, and tourism ministers, WTN is also welcoming representatives of larger companies to sit at the same table as its small and medium-sized travel and tourism entity members. WTN is creating a positive synergy and opportunities on local, regional, and global levels.
With media partners such as founding member eTurboNews, discussion points can be shared with a relevant and wide audience, so open discussions are easily possible.
Bali with its new international tourism zone and ambitions in medical tourism is a perfect platform to showcase how SMEs can be part of such new initiatives.
Professor Geoffrey Lipman from SUNx Malta will demonstrate his extensive Bali study on climate change and will launch the first global climate-friendly travel club.
WTN member leaders from around the world will learn about Bali and Indonesia, and share experiences with other members, including delegates from Indonesia.
Aleksandra Gardasevic-Slavuljica, the director of tourism for Montenegro, and an executive board member of WTN, will present her action plan for 2025.
Peace Through Tourism, the cultural angle, and a discussion of how SMEs can compete in today's travel and tourism environment are on the agenda, with panelists attending from Europe, Asia, Africa, and Australia.
WTN Vice President Alain St. Ange, who was the former minister of tourism for Seychelles, will bring a wealth of global experience, marine tourism, investments, and regional initiatives to the event.
With him, Pascal Viroleux, the CEO of the Vanilla Island tourism group from the Indian Ocean Island Reunion, will share with Bali and global WTN members his challenges and successes.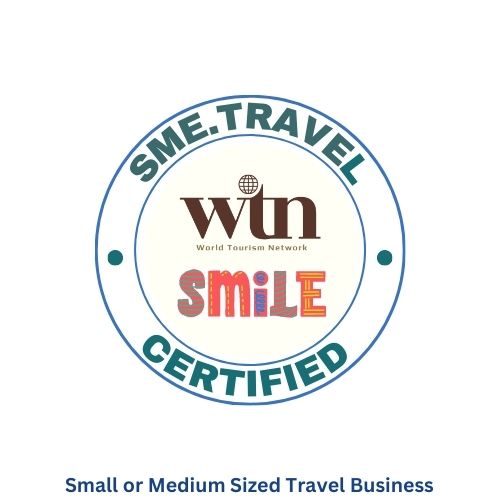 WTN will announce its new SMilE certification program. It will help WTN members to promote excellent services and compete in today's business environment.
Dr. Peter Tarlow, Executive President of the World Tourism Network and a world-known expert on tourism safety, will have an important session on safety, security, and tourism policies.
Small business travel company owner Neena Jabbal, of Aslan Adventure Tours And Travel Ltd., Kenya will explore Indonesia as a new inbound market for Kenyan travelers, and Indonesia as a destination for travelers from East Africa.
Book launches, MOUs, and the Hero Award are on the agenda.
A high point will be the spectacular Gala Dinner, with a cultural performance Bali is famous for.
A special song by a world record star flying in from Australia will address WTN and Climate change.
Generating new business, effective PR, and marketing for SMEs is a top priority when creating partnership opportunities for members of the World Tourism Network.
WTN Member members are in the following countries and regions:
A
B
C
D
E
F
G
H
I
J
K
L
M
N
O
P
R
S
T
U
V
Z