With mortgage rates hitting again a historical high and more people choosing to rent, adaptive reuse – seen by many as a viable solution to bring new apartments to the market – has jumped 25% compared to pre-pandemic levels.
In its annual Adaptive Reuse Report, RentCafe revealed that besides office conversions, hotel transformation is an increasingly popular niche that registered tremendous growth in the past two years.
Here are more details:
With 3,573 apartments in 2020-2021, hotels remain one of the most popular building types to be converted into rentals, registering a 66% growth compared to 2018-2019. The straightforward transition from hotel rooms to apartments is one of the reasons hotels remain one of the primary sources for adaptive reuse.
77,000 future apartments are expected to be converted in the next few years. Hotels represent the second-largest share (22% of future projects), after office conversions, while factories (that make up 16% of the total) are in third place.
The oldest converted hotel is Kenmore, located in Albany, NY, originally built in 1878. 141 years after its doors first opened, the hotel is ready to welcome long-term guests, this time in rental apartments.
The largest hotel converted between 2020-2021 is Holiday Inn Hotel, currently known as Cityplace, in Allentown, PA. This hotel transformation resulted in 282 rental apartments. The next one is Howard Johnson Hotel (Boathouse), with 250 new apartments coming to life in Washington, D.C. The third one is Smugger's Inn Hotel located in Fresno, CA, which resulted in 165 apartments, known as Crossroads Village.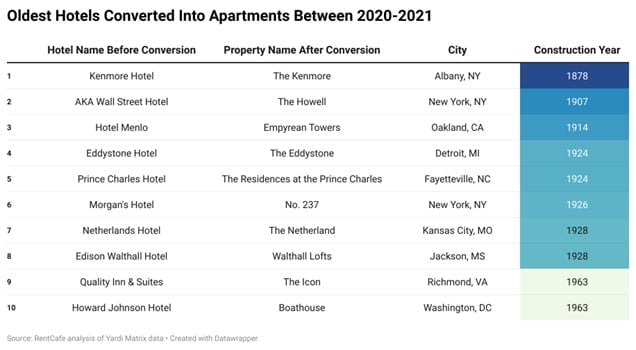 Famous Hotel Conversion
Among the buildings that have been repurposed more recently is the infamous Cecil Hotel in Los Angeles. The developers started the property conversion into an affordable housing complex in 2022 and are planning to bring online 600 apartments, as a result.
Dive into the full data in our full report, rich with more graphics and interactive charts for past, present and future conversions across the largest U.S. cities here.