The Courtyard by Marriott Hotel in Burlington, Ontario, has received the Golden Circle Award from The Marriott Select Global Brand Management Team. Gold status is designated for hotels scoring in the top 10 percent.
Each year, the Marriott Awards of Excellence recognizes the "best of the best" at Marriott International. Established in 1987 and named after our founder, the J. Willard Marriott Award of Excellence honors the company's finest associates who represent the characteristics of the award: achievement, character, dedication, effort, and perseverance.
Additionally, four group awards acknowledge outstanding corporate citizenship, diversity and inclusion efforts, excellence in demonstrating the company's core values, and creating a TakeCare culture of health and well-being.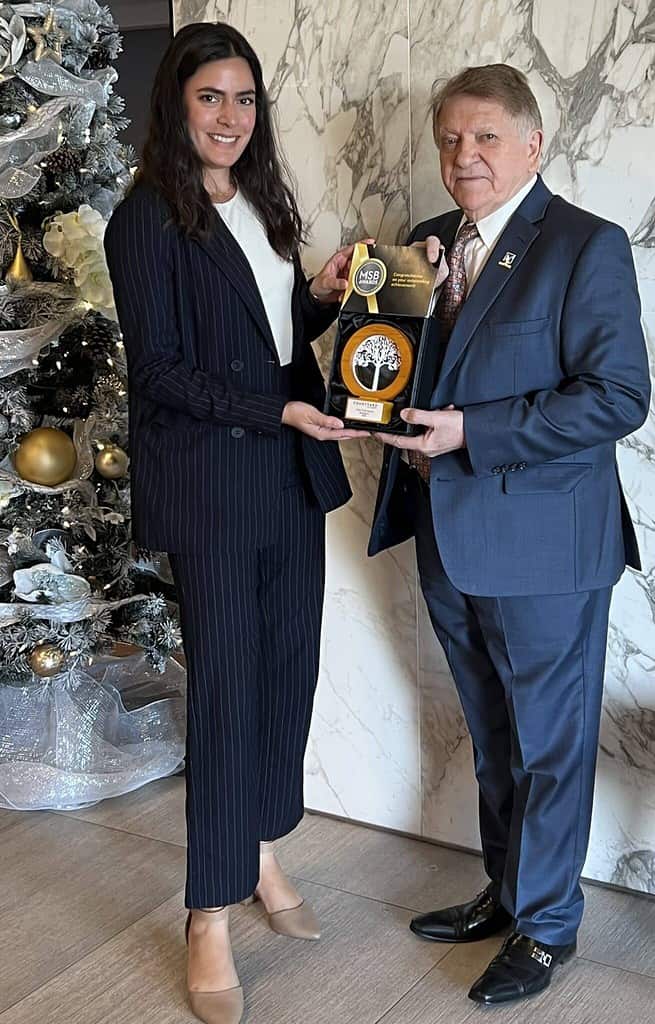 "Congratulations to the Courtyard by Marriott Burlington team on being recognized as a Gold Circle Award Winner," says Frank Vismeg, managing director of the Courtyard by Marriott Hotel – Burlington/Oakville. "Thank you to all for your loyalty, continued success, and drive to provide guests with an exceptional stay every time."
Also presented with the Reward was Miss Razan Hawwa the Director of Sales & Marketing for the Courtyard Burlington.
Razan has a broad-base knowledge of Hotel Operations and Sales and Marketing, most of which has been with Marriott. She has a genuine passion for providing outstanding guest experiences and creating a positive work environment. Razan is a prime example of a manager who presents herself and the hotel with dignity, knowledge, and diplomacy.
Vismeg said: "We have all been impressed by her strong track record of innovative marketing, execution, operational excellence, sales and even going above and beyond her duties."
Razan graduated from McMaster University with Honours and a Bachelor of Commerce. She later went on to complete her Hospitality & Tourism Management at Florida Atlantic University. She is also fluent in English and Arabic.
A Recognition Certificate from Ontario Premier Doug Ford extended appreciation to Frank Vismeg for his years of hospitality service.
"Your record in hotel management helped to lay the groundwork for the 2019 opening of the Courtyard by Marriott-Burlington," reads the letter. "It also helped bring many honors to the Burlington Marriott, including a 2021 MSB Gold Circle Award and TripAdvisor's Travellers' Choice 2022."
Frank Vismeg has over 40 years of General and Executive Hospitality Management experience internationally. Frank graduated with a diploma in Economics of Tourism and Hotel & Restaurant; he also participated in the Professional Development Program and received the Strategic Management Certificate from AMA. Frank has attended numerous programs in general management, sales & marketing and has received various certificates from Marriott Hotels; Hilton Hotels; InterContinental Hotels Group; Radisson Hotels, and CENDANT Corporate Hotels.
Since 1979, he has served as General Manager/Managing Director for several large full-service hotels and convention centers in Canada, Florida, Romania, and the Caribbean, and he recently retired.
Mr. Vismeg has created successful ventures and coached investors new to the industry as well as increasing the revenues for experienced establishments.
He has opened and operated upscale hotels for several franchises ranging from 118 to 822 rooms and suites. Under Frank's leadership, several hotels have received Awards for Business Excellence, Highest Quality Assurance Score, and the prestigious 4 Star / Diamond designations.
He received special recognition from the Prime Minister of Canada in 2010, the Premier of Ontario in 2002, the Minister of Tourism in 2001, Skål International in 2010 and the Mayor of Oakville in 2010, the President of Croatia, and most recently Premier Doug Ford.
Frank is the Former President of Skål International Toronto North/ Hamilton and maintains current memberships in Skål, CSAE, ORHMA, Halton Tourism, and various Chambers of Commerce. He is also a founding member of the World Tourism Network.
Mr. Vismeg now brings his extensive experience to the growing industry of Medical Tourism. He has partnered with well-respected international doctors and business leaders to promote Medical Tourism internationally.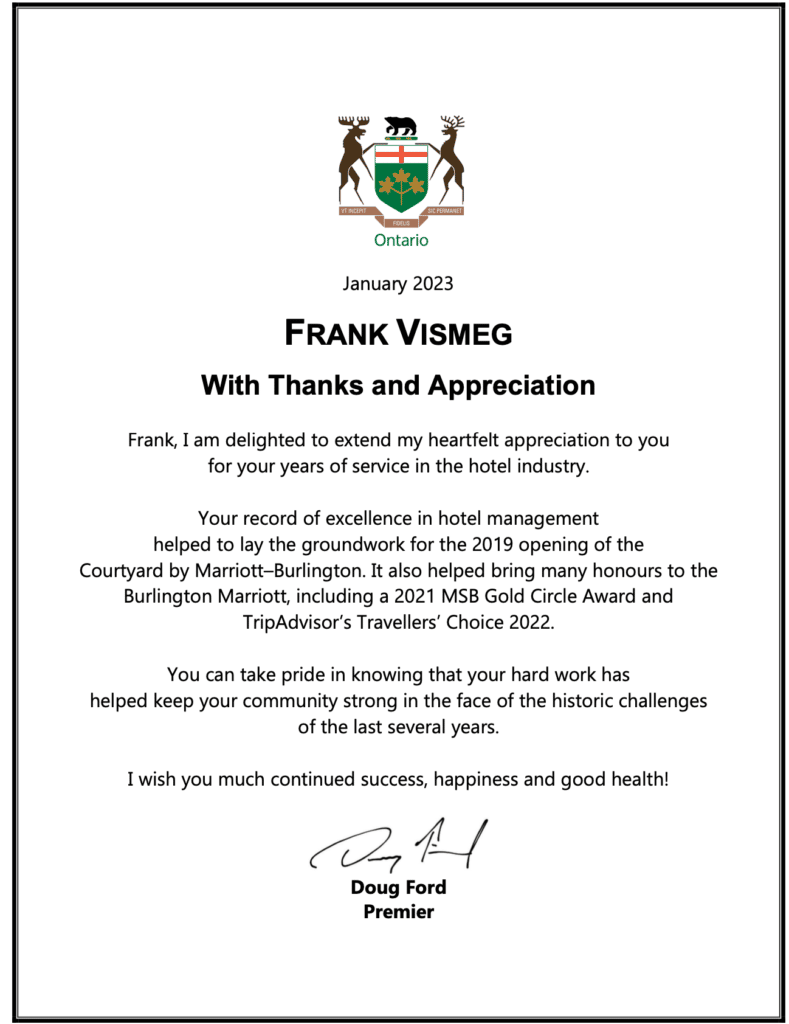 The 6-story Award-Winning Upscale Courtyard by Marriott hotel is ideally located in Burlington/Oakville, Ontario, and is one of the best center points from Toronto to Niagara Falls.
The hotel features 135 guest rooms, including ten suites with contactless services such as the mobile key card and contactless menu.
Each room includes 55″ LED televisions with Netflix and Internet access, a flexible workspace, a mini-fridge, and plush bedding with Paul Mitchell grooming essentials.