The Tenth International Conference on UNESCO Global Geoparks 2023 was held Marrakesh, Morocco, from September 5 to 11 coordinated and hosted by the Council of the UNESCO Global Geoparks Network (GGN).
The presidency of the Geopark Africa Network was extended to the Ngorongoro Conservation Area Authority (NCAA) Senior Assistant Conservation Commissioner and the Head of Cultural Heritage Section Mr. Joshua Mwankunda by Dr. Driss Achbal from Morocco who completed his two-year term.
Ngorongoro Lengai Geopark is the only one in Africa south of the Sahara after M'Goun UNESCO Global Geopark in Morocco, bringing to only 2 Geoparks established in Africa.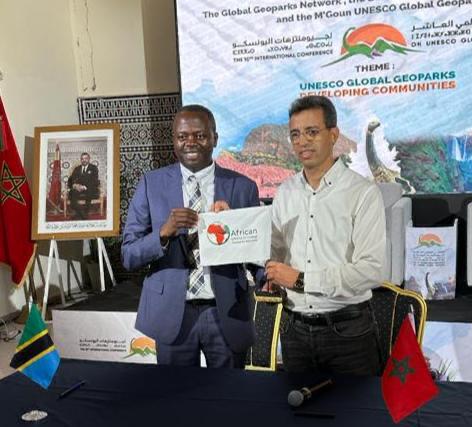 Geopark Conference
Organized every 2 years, the International Conference on UNESCO Global Geoparks brings people together from across the world to share the latest findings and experiences on a wide variety of topics, ranging from geological research to sustainable tourism, education, and participative management for sustainable development.
The Arab and African region has only 2 geoparks registered in the UNESCO Global Geoparks Network, which are M'Goun in Morocco and Ngorongoro-Lengai in Tanzania.
Other than wildlife, geological features are now upcoming tourist magnets in Northern Tanzania, mostly in Ngorongoro Conservation Area, one among the famous tourist attractive site in East Africa. Geological tourist features inside the conservation area have been collectively established as Ngorongoro Lengai Geopark. Ngorongoro Conservation Area Authority (NCAA) management is now developing tourist lodges and other visitor service facilities in the Geopark to attract more tourists, both foreign and local visitors.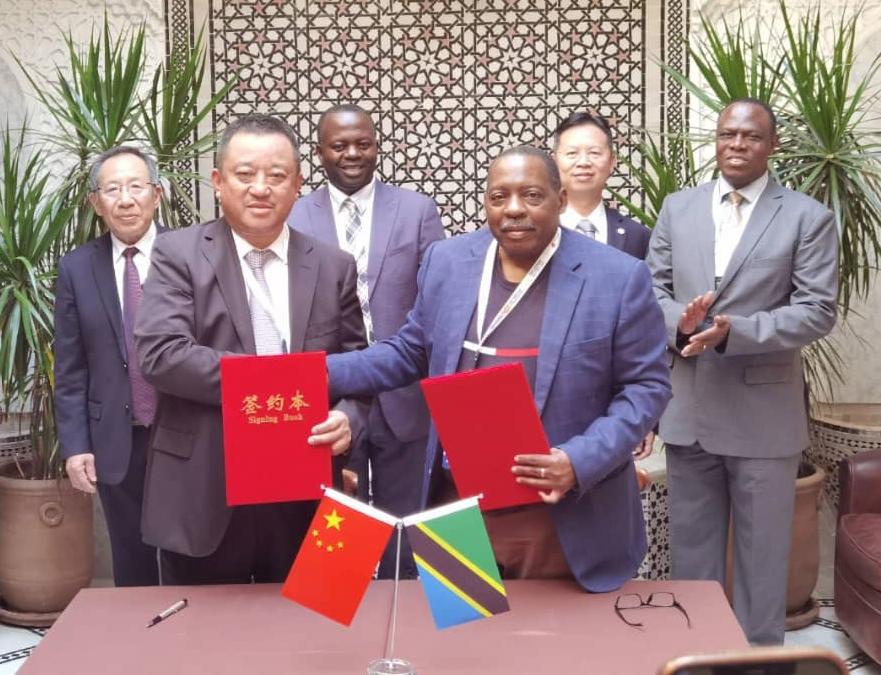 Geopark Hotspots
Most attractive among these geological hotspots is Mount Oldonyo Lengai, an active volcano in Tanzania. The mountain's cone-shaped peak spits fire when erupts. Oldonyo Lengai or the "Mountain of God" in Maasai language is a unique and extremely fascinating strato-volcano that towers above the East African Rift Valley.
From the lower slopes of Oldonyo Lengai volcanic mountain, is the Malanja Depression, a beautiful and scenic geological feature located on the south limb of the Serengeti plains and east of Ngorongoro Mountain. The depression was formed by the movement of the land toward the west, leaving the most eastern part depressed. Maasai homesteads beautify this area within the Malanja Depression and provide cultural experiences to the visitors, giving symbiosis of life between man, livestock, and wild animals, all sharing nature.
Nasera Rock is such a spectacular geological feature worth a visit. It is a 50 meter (165 feet) high inselberg located in the southwestern part of Gol Mountains inside Ngorongoro Conservation Area. This light-colored rock is metamorphic gneiss into which molten granitic magma was injected and then cooled to form pink granite, my guide told me.
There are several, shallow caves under the Nasera Rock which provided shelter to early man. In these caves, evidence has shown that the early human lived there about 30,000 years ago, as evidenced by the stone tools, bone fragments and pottery artifacts that were discovered here.
Olkarien Gorge is the other attractive geological or geographical feature that is worth a visit. It is deep and extremely narrow with 8 kilometers in length. The gorge is also a home to colonies of vultures. Hundreds of vultures fly over the gorge, while the Maasai people get their hair coloring soil from this gorge.
Other attractive geological features within NCAA are Ngorongoro Crater (250 kms) are Olmoti Crater (3.7 kms) and Empakai crater (8 kms). Ngorongoro Crater is the most famous among the other geographical features which pull tourists to the Conservation Area. The crater is home to great wildlife diversity, such as elephants, black rhinos, lions, gazelles, and other large mammals. Ngorongoro Lengai Geopark's geological history began 500 million years ago when granite sand gneiss seen in Gol Mountains and in the west around Lake Eyasi was formed.
UNESCO Global Geoparks are unique and unified geographical areas where sites and landscapes of international geological significance are managed with a holistic concept of protection, education, and sustainable development involving local communities.