TAL Aviation made it possible for Nile Air to be one of the most favorite Egyptian airlines. TAL Aviation makes sure travel agents and travelers include a growing number of passengers from Germany, Czechia, and Slovakia.
This success now paid off with Nile Air flying from Cairo to Cologne/Bonn (CGN) airport in Germany.
In addition to connecting through Cairo, also many passengers are using Nile Air to connect and explore North Africa, the Middle East, and the Gulf Region.
No matter if an airline operates regional, domestic, or global, passengers can be from anywhere. This is no exception for Nile Air, the Alexandria and Cairo-based airline.
The airline representative firm Tal Aviation in Germany is the official representative for Nile Air in Germany.
The Airline loves travelers from Europe, saying passengers would experience the best of true Egyptian hospitality on board.
Nile Air launched its operation with issued and paid-in capital of EGP 200M which has been increased during 2012 to support the expansion in our operations.
Today Nile Air is Egypt's leading private full-service carrier operating schedule services from Cairo and Alexandria to emerging airports in the region with a fleet of modern Airbus A320 & ِA321 aircraft.
In its young history, the airline has placed a clear focus on offering our guests a unique product and service, which includes: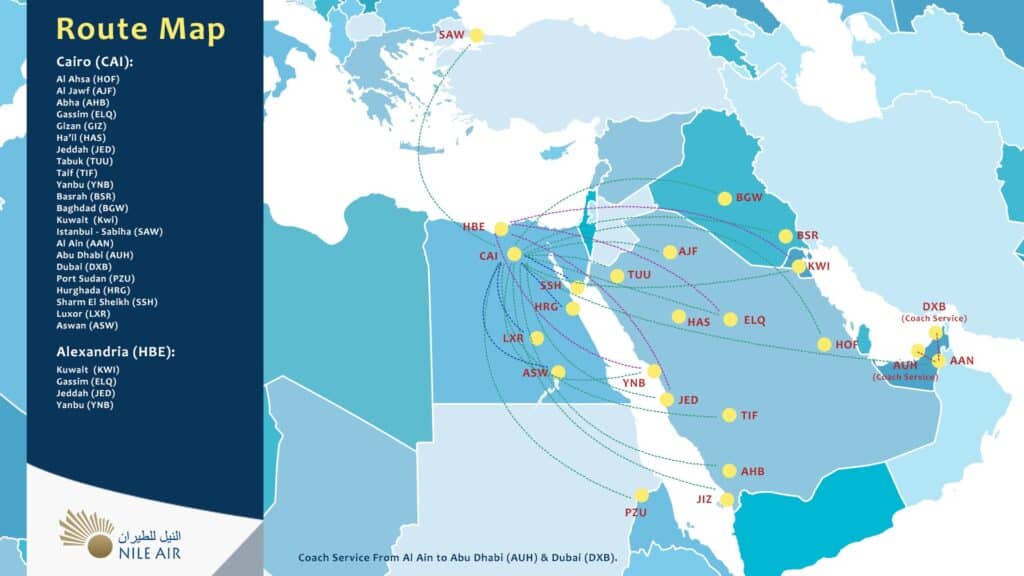 Operating the youngest fleet of modern aircraft in Egypt.
Offering a true full-service product (with all the frills) to ensure guest comfort.
Having the highest on-time performance in Egypt, at over 90% (2016 & 2017) ensuring our guests arrive at their destination on time.
A dedicated business-class product and service across our network.
Dedicated staff who ensure the start and end of our guests' journey is safe, comfortable, and enjoyable. Today the airline has become the second largest independent airline in Egypt with a network spanning the Middle East, Gulf and Africa, and Europe.