The move follows discussions today with top executives from LATAM airlines in Chile.
In 2019, LATAM Airlines, the largest airline corporation in Latin America, operated three weekly flights to Montego Bay with convenient connections from cities in Peru, Chile, Argentina, Brazil, Uruguay, Paraguay, and Bolivia. The route was operated by Airbus A320 aircraft with capacity for 174 passengers, offering a total of 52,600 seats.
"The resumption of airlift from the largest airline in Latin America bodes well for our push to increase arrivals from this lucrative and important region."
"We were well on our way to leverage this airlift in 2019, and then COVID-19 halted our progress. Chile is our 2nd largest market in the region, so it is truly gratifying to be in discussions now to build on what we started," said Minister Bartlett.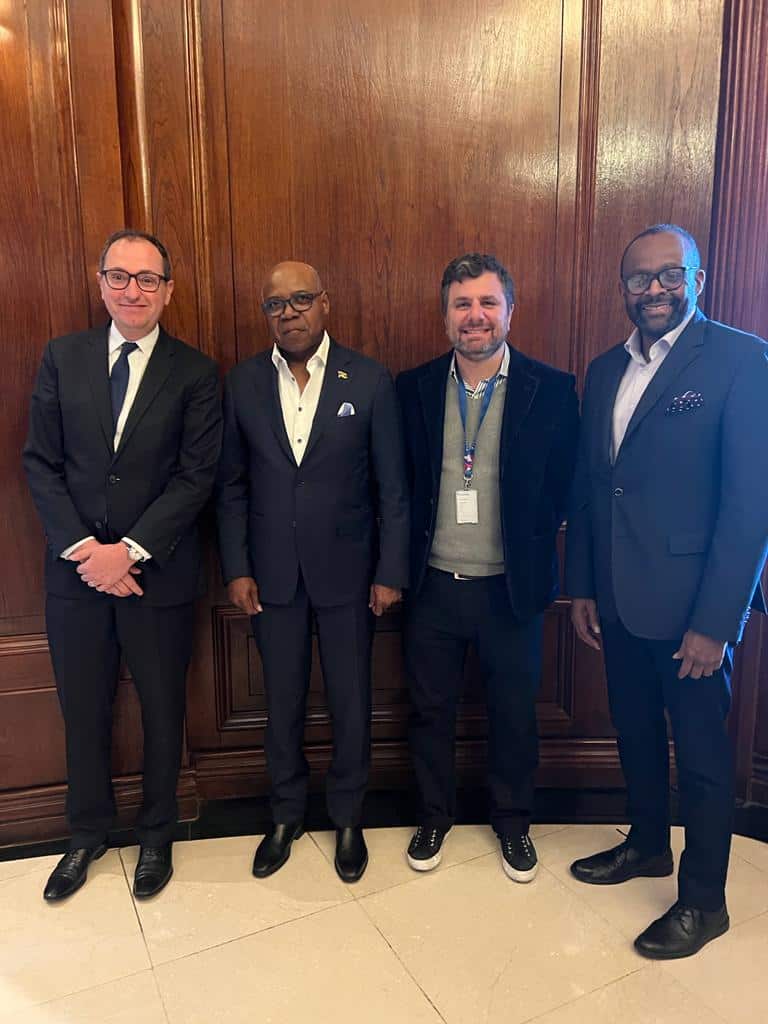 Photo caption: Minister of Tourism, Hon Edmund Bartlett (2nd L) pauses for a moment with (l-r) Jan Jose Tocha, Senior Vice President of Operations from LATAM Airlines, Kamal Hadad Heresi, Senior Vice President of Network and Strategy from LATAM Airlines and Director of Tourism, Donovan White.
As a precursor, LATAM airlines has committed to exploring alternative options with other partners to begin connecting flights as early as November this year. The suggested route would be from Chile to Atlanta to Montego Bay.
"This opportunity will be a great start to the strengthening of our partnership with LATAM airlines and will whet the appetite for travel between Jamaica and the region. The timing is also perfect as it would coincide with the Pan American Games that will see huge marketing opportunities," said Donovan White, Director of Tourism.
ABOUT JAMAICA TOURIST BOARD
The Jamaica Tourist Board (JTB), founded in 1955, is Jamaica's national tourism agency based in the capital city of Kingston. JTB offices are also located in Montego Bay, Miami, Toronto and London. Representative offices are located in Berlin, Barcelona, Rome, Amsterdam, Mumbai, Tokyo and Paris. 
In 2021, the JTB was declared 'World's Leading Cruise Destination,' 'World's Leading Family Destination' and 'World's Leading Wedding Destination' for the second consecutive year by the World Travel Awards, which also named it the 'Caribbean's Leading Tourist Board' for the 14th consecutive year; and the 'Caribbean's Leading Destination' for the 16th consecutive year; as well as the 'Caribbean's Best Nature Destination' and the 'Caribbean's Best Adventure Tourism Destination.' In addition, Jamaica was awarded four gold 2021 Travvy Awards, including 'Best Destination, Caribbean/Bahamas,' 'Best Culinary Destination –Caribbean,' Best Travel Agent Academy Program,'; as well as a TravelAge West WAVE award for 'International Tourism Board Providing the Best Travel Advisor Support' for a record-setting 10th time. In 2020, the Pacific Area Travel Writers Association (PATWA) named Jamaica the 2020 'Destination of the Year for Sustainable Tourism'. In 2019, TripAdvisor® ranked Jamaica as the #1 Caribbean Destination and #14 Best Destination in the World. Jamaica is home to some of the world's best accommodations, attractions and service providers that continue to receive prominent global recognition.
For details on upcoming special events, attractions and accommodations in Jamaica go to the JTB's Website at www.visitjamaica.com or call the Jamaica Tourist Board at 1-800-JAMAICA (1-800-526-2422). Follow the JTB on Facebook, Twitter, Instagram, Pinterest and YouTube. View the JTB blog at www.islandbuzzjamaica.com.