During the installation banquet of Skal's new officers, Skal International Orlando Past President Jeff Chase presented the prestigious HSMAI Gene Hassett Award to Luann Brooks, Executive Director of the I-Drive Business Improvement District, for distinguished service in the hospitality industry.
Skal International Orlando, the only international organization bringing together sectors of the travel and tourism industry while networking, conducting business and helping communities locally, nationally and internationally, installed its slate of officers for 2017-2018 during its annual installation gala at the Hard Rock Hotel Orlando, while also presenting special industry recognitions.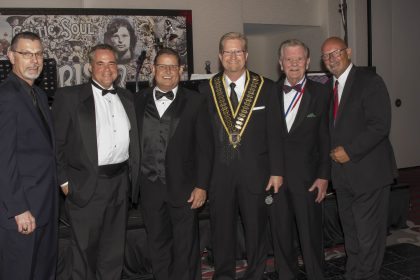 The Skal International Orlando 2017-2018 officers are as follows:
• President, Mark Reid, Group Publisher WHERE Orlando
• Vice President, Jetse Pottinga, Hotel Industry Consultant
• Secretary, John Stine, Director of Sales & Marketing, I-Drive 260
• Treasurer, Keith Wolling, General Manager, B Resort & Spa
• Executive Secretary-Treasurer, Tom White, retired
• Skal USA Representatives, Richard Scinta, Vice President Club Association Governance, Wyndham Vacation Ownership and Duane Winjum, Immediate Past President and Complex General Manager for the Spring Hill Suites Orlando at Flamingo Crossings and Towne Place Suites Orlando at Flamingo Crossings.
The new officers, called to serve Skal International Orlando for the next term of office, each fulfill a unique and important role. The club president sets goals for the club, supports and creates values for members and leads all meetings, while being actively involved in all club initiatives. The vice president assists with all specified club initiatives, assuming the president's responsibilities in his absence and prepares to assume the role of president for the next term. The club secretary ensures meetings are held in accordance with governing documents, prepares and provides minutes to directors. The treasurer ensures the proper fiduciary disposition of revenues and expenses, annual auditing of financials and also assists the executive secretary/treasurer. And the Skal USA representatives represent the local Skal Orlando Club within the national Skal organization, reporting back to the local club.
"Our club is so fortunate to have the dedication of such visionary officers for 2017-2018. They are highly-accomplished industry leaders who help our club tremendously while representing Skal nationally and internationally with great pride," said Mark Reid, Skal International Orlando president.