The Seychelles Tourism Board (STB) in collaboration with Best Island, a B2B division of QULV.com, hosted a two-day workshop in two Chinese provinces. A total of 76 travel agents from Hangzhou, Zhejiang Province and Suzhou, Jiangsu Province took part in the training sessions held earlier this month.
Ethiopian Airlines' office in Shanghai, Constance Ephelia Seychelles and Constance Lemuria Resort were also onboard to assist.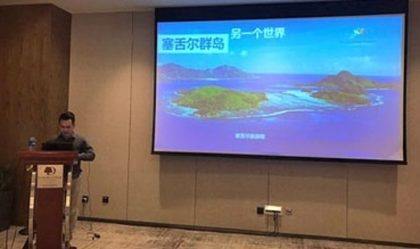 Hangzhou and Suzhou, both located nearby Shanghai, represent the emerging market with high income travelers who have premium and high-end travel needs in China.
It was the first time that STB such intense training in both cities and it was very vital for us to seize the chances from the emerging markets in China except for Beijing, Shanghai, Guangzhou, Shenzhen and Chengdu.
But STB continues to pay attention to these five cities, which are the biggest outbound source markets in China. A series of projects will be carried out to make sure our market can keep growing steady and healthy in 2017.
As one of our important trade partners in China, Best Island increased its Seychelles product sales 12% during the 2017 Chinese New Year.
The training was very productive, as it helped the high-end trade partners to understand the products and services available on the market and give them the tools to better sell the destination, said STB's marketing manager for China based in Hong Kong Jean-Luc Lai-Lam.
The diverse Seychelles product packages were introduced to the travel agents during the workshops by the manager of Africa, Middle East & Islands department of Best Island Ada Wang.
Sam Yu from STB's office in China also gave the trade an overview about Seychelles as a destination and hotels in its tourism industry.
Right after the trade training workshops, a Wedding Expo and a honeymoon package exhibition were held in Shanghai from March 11-12.
Best Island sold several Seychelles holiday packages, which were featured with Banyan Tree and the Constance resorts during the two days.