Swiss light artist Gerry Hofstetter was planning to light up various buildings and monuments for the residents of Kyiv during Christmas Season in Ukraine. The images projected were planned to be broadcasted live to reach both soldiers in the trenches, as well as civilians in their homes and shelters.
It was more than relating a sense of hope, it was meant to bring joy and lighten up the faces of many incredulous Ukrainians
Gerry Hofstetter does not believe in long speeches but in action. His idea of this unique solidarity action was aimed to bring hope and light to Ukrainian men and women in these dark and cold days of the war in Ukraine.
So he went to Ukraine on a journey from Zurich to Kyiv that took more than 46 hours including six hours to get across the border.
With a small team of four people, Hofstetter brought his own electric generators all the way from Switzerland to set up this very special Christmas Light Art Tour in Kyiv.
On December 23 the show began: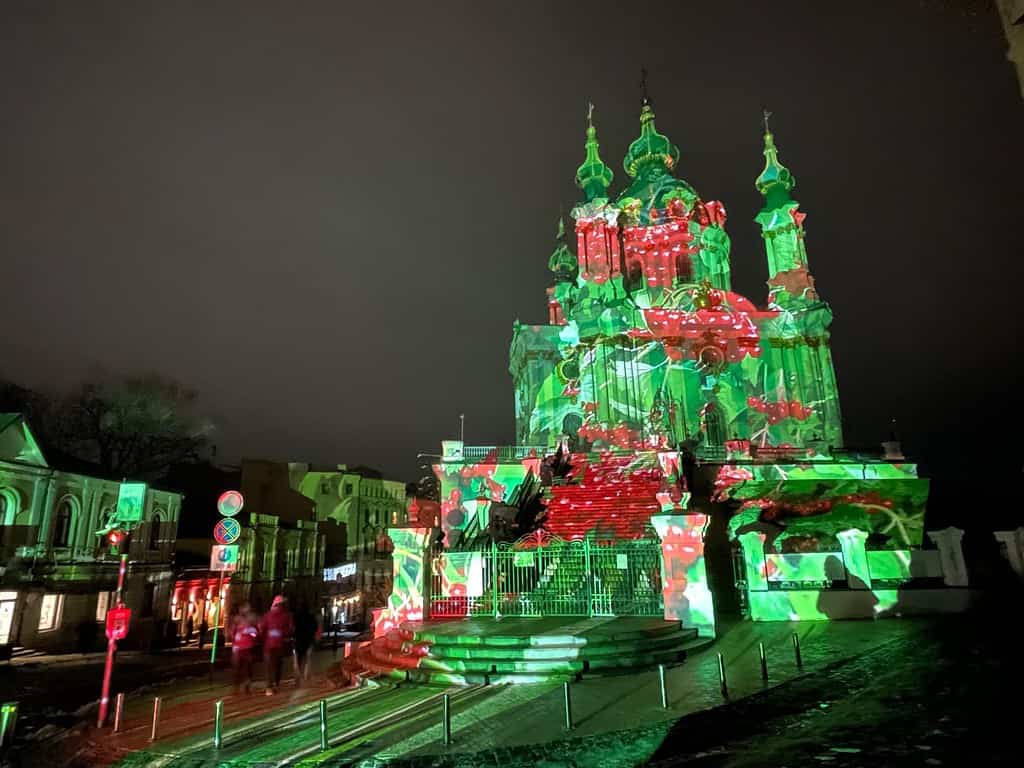 Projections began with Ukrainian state symbols and colorful Christmas images, sunflowers, and many other bright and cheerful images.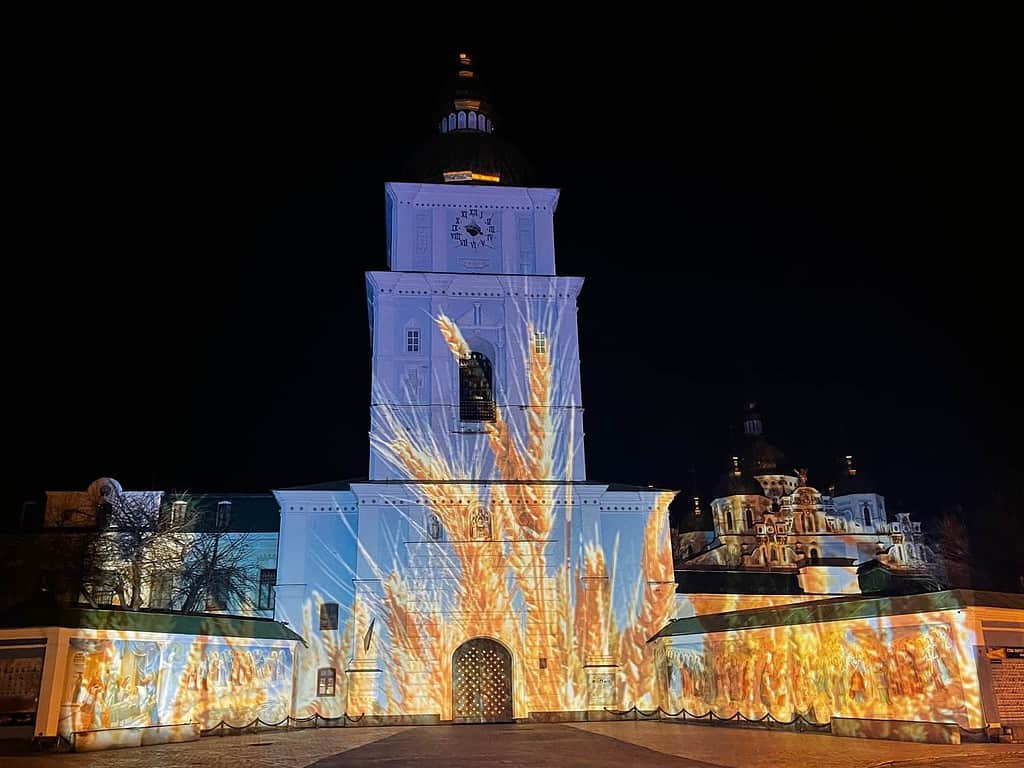 Hofstetter illuminated a number of historical buildings in Kyiv, including St. Andrew's Church, the National Museum of the History of Ukraine, the bell towers of the St. Michael's Golden-domed Monastery and St. Sophia Cathedral, and the building of the Diplomatic Academy of Ukraine – with Christmas-themed abstractions, Ukrainian national images, and state symbols.
Hofstetter remembered also the deceased by projecting their portraits onto the National Historical Museum and showing doves of peace.
The buildings were selected in cooperation with the Ministry of Culture and Information, the State Agency of Ukraine for Arts and Art Education, and the capital city of Kyiv.
The illumination was planned to place from December 23 to 25 between 16:00h to 22:00h
On Saturday 24 December air strikes alarms went off minutes before the start. Hofstetter and his team rushed to the Swiss Embassy for shelter.
Only a few minutes later they heard shelling. "It was frightening", says Hofstetter.
The endurance of the Ukrainian people is incredible: No power, no water, no heating, and temperature below freezing.

eTN Author Elizabeth Lang, Munich
The art tour by Swiss lighting artist Gerry Hofstetter, which started in Kyiv on Friday, December 23, had to be suspended due to the Russian attack on Kherson, Minister of Culture and Information Policy of Ukraine Oleksandr Tkachenko says.
"Today we are canceling the light route of Gerry Hofstetter. In memory of the tragic events and all the dead, let the light burn in everyone's heart today," Tkachenko wrote on Telegram on Saturday.
The Russian invaders fired at the center of Kherson with multiple launch rocket systems on Saturday morning. According to various sources, at least seven civilians in the city were killed, and there are reports of 58 wounded, including 18 in serious condition.
Before the show was canceled Saturday, President Zelenskiy said Ukrainians will create their own miracle this Christmas by showing they remain unbowed despite Russian attacks that have plunged millions into darkness.
The president made his remarks in a video address to Ukrainians who celebrate Christmas in December. Most Ukrainians are Orthodox Christians and celebrate Christmas on January 6.
In Rome Pope Francis' 10th Christmas Day address since he assumed the papacy, mentioned the war for 10-minute. ,
He mentioned "a grave famine of peace also in other regions and other theatres of this Third World War" while speaking from a balcony at the basilica overlooking St Peter's Square.