Nepal News reported a few months ago, that Yeti Air is ahead in safety rating among the Nepali airlines flying to major airports in Nepal following in regards to safety, while Summit Air has said to be one of the top ones in Nepal. An investigation committee formed by the Nepal Ministry of Culture, Tourism, and Civil Aviation reached that conclusion.
Today on Sunday, January 15 a commercial flight operating from the nation's capital city Kathmandu en route to Pohkara burst into flames and crashed killing all 72 onboard. At this time 68 out of 72 bodies had been recovered. According to preliminary reports 15 foreigners weee among the dead.
The ATR 72 aircraft on a worldwide scale does not have a great safety record. An ATR crashed on 4 February 2015 into the Keelung River shortly after takeoff from Taipei Songshan airport. In 2019 eTurboNews reported about Yeti Airlines sliding off the runway in Kathmandu.
Pokhara is a city on Phewa Lake, in central Nepal. It's known as a gateway to the Annapurna Circuit, a popular trail in the Himalayas.
Many visitors fly between Kathmandu and Pokhara.
Yeti Airlines flight YT691 with the registration number 9N-ANC between Kathmandu and Pokhara, Nepal.This domestic flight route is the most popular for tourists in Nepal.
The aircraft carried 68 passengers and 4 crew members.
While landing at Pokhara, the flight crashed on the bank of the Seti River. The accident resulted in the deaths of all passengers and crew members.
It is Nepal's worst air crash since the crash of Pakistan International Airlines Flight 268 in 1992.
Pokhara Airport was closed after the crash. An intensive rescue operation was launched into an area difficult to reach.
Yeti Airlines canceled all flights on Monday and posted this information on its website.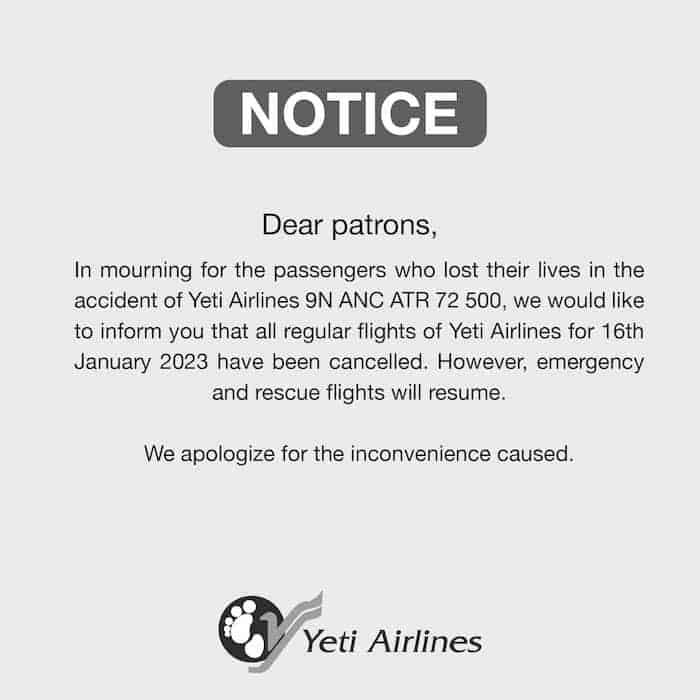 The Government of Nepal summoned an emergency meeting. Indian aviation minister Jyotiraditya Scindia offered condolences.
Yeti Airlines Pvt. Ltd. started its first commercial flight in September 1998 with a single Canadian-built DHC6-300 Twin Otter aircraft. Serving Nepal for over two decades, we operate ATR 72s in the major cities of Nepal.
In 2009, its sister airline Tara Air was established to take over the Short Take Off and Landing (STOL) operations with the DHC6-300 and Dornier DO228 aircraft fleet. Yeti Airlines has retained its modern fleet of five ATR 72-500 that operates in non-STOL domestic sectors of Nepal. The two airlines together continue to provide the largest network of flight routes throughout Nepal.