Located in the northern province of Kastamonu in Turkey, Valla Canyon, known as the world's second deepest, along with Horma Canyon and Ilıca Waterfall, have become increasingly popular destinations, drawing a growing number of visitors annually.
In the previous year, Horma Canyon received about 150,000 visitors. The canyon bears a resemblance to a natural water world shaped by the Zarı Stream's passage over centuries. Additionally, Valla Canyon, Ilgarini Cave, and Pınarbaşı, home to Ilıca Waterfall, were reported to have received the same number of visitors.
The Muratbaşı observation point makes Valla Canyon famous, earning it the ranking of the "world's second deepest canyon." Some parts reach a staggering depth of 1,200 meters (3,937 feet).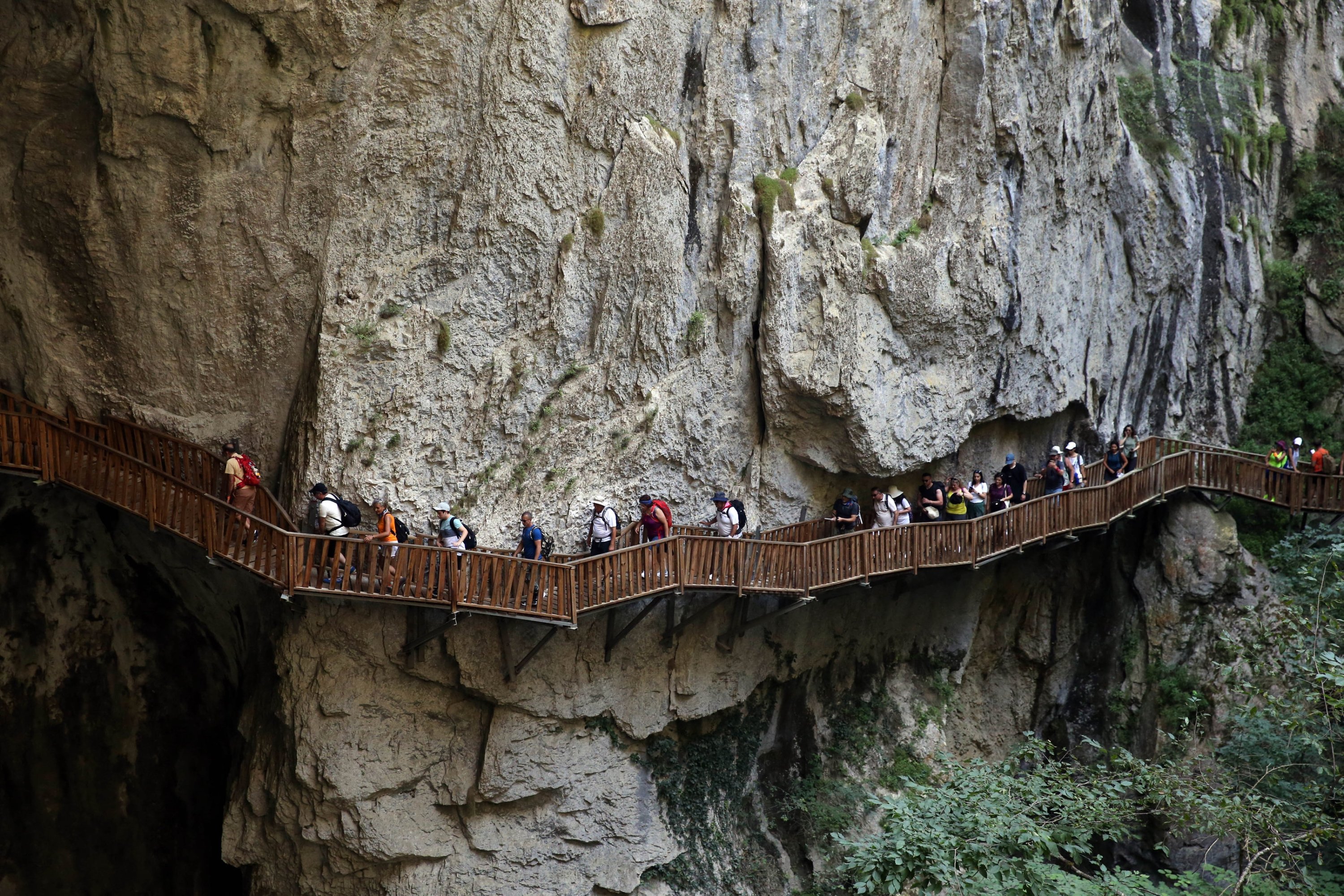 Horma Canyon is now fully accessible. Authorities constructed a 3-kilometer wooden walkway along the entire length, mounting it on rocks for stability.
As visitors traverse the wooden pathway, they can experience the awe-inspiring magnificence of the canyon. Responsible authorities have built social spaces at the canyon's entrance, providing visitors with places to relax and take a break.
After passing Horma, visitors reach Ilıca Waterfall. Water falls from a 10-meter height, creating a natural pool.
Throughout the entire year, the waterfall provides a captivating visual spectacle for visitors, becoming particularly enticing during the sweltering summer season.
Mayor's Report
Pınarbaşı's mayor, Şenol Yaşar, highlighted that the district stands as the leading tourism destination in the area.
The mayor also discussed the region's investments, which encompass a large steel profile cliff swing and a glass terrace. He noted that the introduction of these attractions will contribute to a further rise in the volume of visitors.
In addition, the mayor highlighted investments: a steel profile cliff swing and glass terrace to attract more visitors. Plans for a road project to reduce the distance to the sea from 120 to 60 kilometers, boosting cultural and sea tourism in the district.
Visitors praised canyons, Ilıca Waterfall's natural beauty, calling it a must-see spot for its unique landscape.