From floor to ceiling, the remarkable results from a huge renovation that took place at Myrtle Beach Marriott Resort & Spa at Grande Dunes aims at bringing to light the oceanfront resort's sophisticated style, sleek finishes, clean lines, and spacious design.
No expense was spared and no detail went unnoticed, which guests will now notice at every turn. The renovation of the Myrtle Beach Marriott Resort & Spa reflects the evolution of Marriott Hotel's worldwide bold hotel transformation projects designed to enhance every aspect of the guest's stay.
The Myrtle Beach Marriott Resort & Spa at Grande Dunes, rising high above the Atlantic on the northern end of Myrtle Beach, is proud to reveal its $14 million makeover for the upcoming 2017 summer season.
The Marriott's massive remodeling project, which began in October 2016 and is now completed, showcases 405 revamped guest rooms that were redesigned to include brand-new contemporary furniture, including chests, mirrors, artwork, closets, desks, chairs and beds – down to the sheets, mattresses, duvets, pillows and pillow cases. All rooms now also boast new 50-inch smart TVs. Guest room bathrooms were replaced with new, luxurious walk-in showers, mirrors, fixtures, commodes and lighting. The hallways on the resort's 11 floors were re-carpeted and updated as well.
"We believe our guests will be pleased and delighted with these renovations," says Cindy Hull, director of sales and marketing for the Myrtle Beach Marriott Resort & Spa. "The Myrtle Beach Marriott has always set a high standard among the oceanfront hotels here along the Grand Strand, and these upgrades will define a new benchmark of luxury moving forward."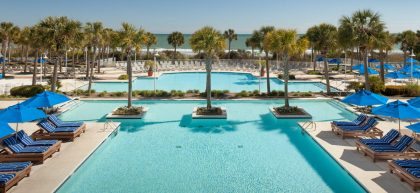 The resort offers high-end amenities and features for a plethora of guests' needs. On the corporate end of the spectrum (conferences, associations, conventions, retreats and other professional gatherings), our meeting venues are the perfect fit, with 45,000 square feet of contemporary meeting space, gourmet catering options, modern AV equipment, a business center and high-speed internet. Ideally located in the exclusive Grand Dunes area, the resort is a meeting planner's dream, designed with elegance, flexibility and fun. From poolside networking to black-tie galas, guests will experience the best of Southern hospitality in the resort's indoor and outdoor spaces alongside inspired dining, upscale guest rooms and luxurious spa services. Our upper and lower pool decks offer additional, beautifully landscaped space for outdoor receptions by the ocean.
For families and couples in need of a uniquely memorable vacation, the Myrtle Beach Marriott Resort & Spa at Grande Dunes boasts an unbeatable oceanfront location on the north end of Myrtle Beach. Guests are not only welcomed by spacious, elegantly appointed guest rooms, but also an impressive range of onsite luxury resort amenities.
And it's all right here in Myrtle Beach, an action-packed destination whether you are here for business or pleasure. With 60 miles of pristine coastline to explore, one doesn't need to venture far past the sand to have an amazing time. For those want to combine a beach getaway with other activities, or for groups who seek things to do during conference downtime, Myrtle Beach will certainly not disappoint. Play golf, have fun at the many entertainment attractions, dine in the "seafood capital of South Carolina," and don't forget shopping, strolling the 1.2-mile oceanfront boardwalk, enjoying the sheer beauty of nature at every turn, and so much more.
Sign up now for Marriott Rewards and get on the fast track to earn points for free hotel stays, room upgrades, flights, credit card purchases and deals with Marriott partners.
The Myrtle Beach Marriott Resort & Spa at Grande Dunes, 8400 Costa Verde Drive in Myrtle Beach, is the definition of a luxury getaway in Myrtle Beach. The oceanfront resort welcomes guests with spacious, newly renovated guest rooms and an impressive range of upscale amenities on the property, such as the onsite Hibiscus Spa, two beach-front swimming pools, a health club, championship golf and tennis, a business center and exquisite on-site dining options. Room amenities feature plush bedding, high-speed Wi-Fi, mini fridge, a smart TV and breathtaking ocean views. Large groups and special events can take advantage of the resort's sophisticated venue space and our expert planning services. Just minutes away are the area's championship golf courses, shopping, dining, entertainment attractions and more. For more info, call 843-692-3709 or visit meetatmyrtlebeach.com