Dangerous wildfires in combination with 60-mph hurricane-force winds are a deadly situation for the picture-perfect city of Lahaina on the island of Maui.
This famous and busy small tourist town with historic buildings, shops, restaurants, and hotels may be no more.
Tourists and locals were seen fleeing the fires that took the entire part of Maui Island by surprise.
Chased by flames, people were seen fleeing into the waters of the Pacific Ocean to be rescued later.
Power has been out in many parts of the island for 24 hours. The main road between Lahaina, the Kaanapali Beach Resort area, and Kahului Airport is closed.
Among other airlines, United Airlines is canceling all flights from the US Mainland to Kahului, Maui.
Phone lines (landlines and mobile) are down. It is impossible to reach major hotels and resorts in the greater Lahaina region, specifically Kaanapali Beach. Marriott and also Hyatt told eTurboNews they lost any contact with their hotels and cannot provide updates about the welfare of their guests.
A hotel worker posted to Twitter: Any way to get to #Kaanapali yet? We're separated from our children. They're without power, phones, or transportation.
Local residents told eTurboNews that resort hotels in Kaanapali are fine and guests are well, but unable to leave the area.
Lt. Governor Sylvia Lukey, said when flying over the area, it looked like a bad bomb attack in a war setting. She has asked the White House to declare a Federal Emergency for Maui. Lukely is the acting governor of Hawaii since Governor Green is out of state at this time.
Six people are confirmed dead. Shelter space is full of people evacuating hotels and rushing to the airport to catch flights to Honolulu.
The Honolulu Convention Center is ready to shelter 4,000 visitors and locals. The City of Honolulu is sending city buses to get passengers that escaped Maui to the Convention Center.
There are extraordinary, terrible scenes in Maui as such intense wildfires combined with a major hurricane continue.
A Maui resident posted to Facebook: This is what it looked like earlier on Maui. If you've been to my hometown of Lahaina…I fear it is no longer. I dread what it will look like in the morning. An apocalyptic scene is unfolding due to the fires raging across my island. Please pray for us."
Many locals lost their homes, their cars and are looking for friends and family.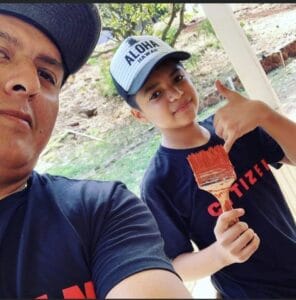 Other posts appeal to find missing people, such as Keyiro Fuentes, a little boy, or family members in Lahaina, Allan, and Pat Shannon.
Authorities feared that number could rise as flames are slowly beaten down and emergency responders are able to move in.
The red alert posted on the Civil Defense website for Hawaii said effective areas under the red alert warning are the most leeward areas of all Hawaiian Islands. It warns that any fires that develop will likely spread rapidly.

A Red Flag Warning means that critical fire weather conditions are either occurring now or will occur shortly. A combination of strong winds, low relative humidity, and warm temperatures can contribute to extreme fire behavior. A Red Flag Warning does not predict new fires.
The people and visitors on Maui had been caught by surprise. Fires spread in the middle of the night when the first 911 calls came in, with the fire department unable to get to the affected regions.
There seems to be confusion in regard to what is expected of visitors. The Hawaii Tourism Authority and the Maui Visitors Bureau have no information posted yet, but airlines are taking people to Oahu for low rates and waiving all change fees.