In this week's article, we examine the case of Andrews v. Marriott International, Inc., 2016 IL App (1st) 122731 (2016) wherein the Court noted that "In 2008, while plaintiff…was a guest of The Blackwell Inn (Blackwell) she was secretly recorded on video in the privacy of her hotel room by another guest (Mr. X). Plaintiff filed this action sounding in negligence and invasion of privacy against (inter alia) defendant, Preferred Hotel Group (Preferred), the service provider of Blackwell's online reservation system, for, among other things, Blackwell's disclosure of the details of her hotel stay to (Mr. X). Plaintiff's theory of liability is that Preferred was either (1) engaged in a joint venture operation of the hotel or (2) voluntarily assumed a duty to protect plaintiff's privacy".
Terror Targets Update
Birmingham, England
In Bennhold & Freytas-Tamura, After Terrorist Attack, a British City Linked to Jihadis Winces and Asks Why, nytimes.com (3/26/2017) it was noted that "'Why do all jihadis come to Birmingham?'…Exaggeration or not, many people are asking that question. Khalid Masood, 52, the Briton responsible for the deadly attack outside Parliament last week, remains a puzzle to investigators working on how, why and when he was radicalized. But one aspect is familiar: He had a connection to Birmingham, having moved almost a year ago to this city of 1.1 million, where more than one in five residents declare Islam as their religion".
Travel Ban Update
In Federal Judge Extends Order That Temporarily Blocks Trump Travel Ban, travelwirenews.com (3/31/2017) it was noted that "A federal judge in Hawaii extended his own order that temporarily blocked President Donald Trump's revised travel ban…U.S. District Judge Derrick Watson held a hearing Wednesday (and later) issued a new ruling that once again prevents the government from suspending new visas to travelers from six Muslin countries and halting the U.S. refugee program".
Electronics Ban Update
In White, For Some Fliers, Electronics Ban Makes for a Bumpy Ride, https://nyti.ms/2nFTJNk (3/27/2017) it was noted that "Although it went into effect on Saturday, a ban on electronic devices like laptops and tablets on certain overseas flights bound for the United States and Britain has already prompted business travelers to rethink their travel plans. For travelers who frequently cross through the Middle East and North Africa, the choices put them between a rock and hard place: They can check their devices and lose a day or more of productive work, as well as run the risk of damage or theft, or trade a nonstop flight on a high-end Persian Gulf carrier for connecting flights on one of the major American or European airlines, where amenities and leg room are likely to be skimpier".
Leggings Ban Update
In Stack, After Barring Girls for Leggings, United Airlines Defends Decision, nyti.ms/2okJjzV (3/26/2017) it was noted that "United Airlines barred two teenage girls from boarding a flight Sunday morning and required a child into a dress after a gate agent decided the leggings they were wearing were inappropriate. That set off waves of anger on social media, with users criticizing that they called an intrusive, sexist policy, but the airline maintained its support for the gate agent's decision".
Pass Passengers Behave, Please
In Consumerist, United Airlines Slammed For Denying Boarding To Passengers Wearing Leggings, https://consumerist.com (3/27/2017) it was noted that "While United did not define what 'properly clothed' means, specifically, the airline clarified that the two passengers who had been barred were traveling on a companion pass. As such, their leggings were in violation for the company dress code policy for 'pass passengers' which allows United employees and their dependents to travel for free on standby…because pass travelers are 'representing' the company, they're not allowed to wear things like spandex leggings, tattered or ripped jeans, midriff shorts, flip-flops or any article of clothing that shows their undergarments".
Goodbye Arctic Ice
In Fountain, Arctic's Winter Sea Ice Drops to Its Lowest Recorded Level, nytimes.com (3/22/2017) it was noted that "After a season that saw temperatures soar at the North Pole, the Arctic has less sea ice at winter's end that ever before in nearly four decades of satellite measurements. The extent of ice cover-a record low for the third straight year-is another indicator of the effects of global warming on the Arctic, a region that is among the hardest hit by climate change, scientists said…The melting of sea ice does not raise sea levels, but loss of ice coverage can disrupt ecosystems. For example, it can affect the timing of blooms of phytoplankton, the microscopic organisms at the bottom of the ocean food chain".
Goodbye Great Barrier Reef
In Cave & Gillis, Large Sections of Australia's Great Reef Are Now Dead, Scientists Find, nytimes.com (3/15/2017) it was noted that "The Great Barrier Reef in Australia has long been one of the world's most magnificent natural wonders, so enormous it can be seen from space, so beautiful it can move visitors to tears. But the reef, and the profusion of sea creatures living near it, are in profound trouble. Hugh sections of the Great Barrier Reef, stretching across hundreds of miles of its most pristine northern sector, were recently found to be dead, killed last year by overheated seawater. More southerly sections…that barely escaped then are bleaching now, a potential precursor to another die-off that could rob some of the reef's most visited areas of color and life".
Thank You, United Nations
In Gladstone, After Bringing Cholera to Haiti, U.N. Can't Raise Money to Fight It, nytimes.com (3/19/2017) it was noted that "When the leader of the United Nations apologized to Haitians for the cholera epidemic that has ravaged their country for more than six years-caused by infected peacekeepers sent to protect them-he proclaimed a 'moral responsibility' to make things right. The apology, announced in December along with a $400 million strategy to combat the epidemic and 'provide material assistance and support' for victims, amounted to a rare public act of contrition by the United Nations…the United Nations' strategy…has failed to gain traction. A trust fund created to help finance the strategy has only about $2 million…Just six of the 193 member states-Britain, Chile, France, India, Liechtenstein and South Korea-have donated".
Foreign Foods That Can Kill You
In Morse, 5 Foreign Foods That Can Kill You (But You Should Eat Anyway), smartertravel.com (1/30/2015) it was noted "How far are you willing to go to enjoy a rate delicacy? These foreign foods aren't just delicious-they're also potentially deadly! …Fugu. Just a sliver of ill-prepared fugu fish can send you into paralysis, swiftly followed by death. But if it's prepared correctly, it's delicious…Sannakji. Like your food tortured and eaten alive? The you'll love wriggling octopus, the food that fights back. The small octopus's legs are cut off while still alive-and then the still-moving limbs are offered up to diners. Chew carefully, as the suction cups on the thrashing tentacles can stick to the inside of your throat…Bitter Cassava. This shrub, native to South America, is a good source of carbohydrates-but also a good source of cyanide…If the bitter cassava isn't properly soaked and dried, it can contain enough poison to kill you…Giant Bullfrog. Ever looked at a seven-foot-wide bullfrog…Carefully check the calendar if you're contemplating eating this Namibian delicacy. These giants are only safe to eat after mating season or the third rain of the year, after the frog is mature enough to start croaking. If you eat it at the wrong time of the year…you could suffer kidney failure…Ackee. Ackee, the national fruit of Jamaica is literally a forbidden fruit…When the ackee is unripe, it is full of poison and potentially deadly to eat". Enjoy.
Uber's Greenlght Hub
In Hu, As Uber Woos More Drivers, Taxis Hit Back, nytimes.com (3/18/2017) it was noted that "The center serving drivers of New York's yellow taxis is 3,000 square feet. The center serving the city's Uber drivers is 30,000 square feet. …the Uber center deploys a dozen concierges in black T-shirts to sign in drivers with iPads in a gleaning, airy sanctuary tastefully outfitted with flat-screen monitors, sleek couches and a wall-size print of abstract renderings of New York landscapes… There is raft of lucrative perks that are unmatched by the taxi center: signing bonuses, paying for two weeks of a driver's car lease and free medical checkups. The Uber center-officially called a Greenlight Hub-opened in December…the taxi and Uber centers that have opened in different sections of the same neighborhoods in Queens are a visible manifestation of how the rival industries continue to take on each other out of the view of their customers".
Filling The Uber Void
In Chen, Riding With the Underdogs: Apps Fill a Void Left by Uber and Lyft, nytimes.com (3/29/2017) it was noted that "When I arrived in Austin this month for the annual South by Southwest festival, I was prepared to time travel to a harsh past: an era when people had to wave their hands-on street corners, begging for curmudgeonly cabdrivers to pull over and offer a ride. This was the picture many expected…because Uber and Lyft…pulled out of Austin last year after the city voted to tighten regulations of ride-sharing services…Yet the reality …was that getting around Austin during the festival was easy. Several smaller ride-sharing services were operating in town, such as Fasten and RideAustin. Despite some hiccups with those apps, they worked well over all".
Uber To Repair Image
In Isaac, Uber Board Stands by Travis Kalanick as It Reveals Plans to Repair Its Image, nytimes.com (3/21/2017) it was noted that "The board of Uber is confident in its chief executive, Travis Kalanick, board member Arianna Huffington said on Tuesday, providing a show of support as the embattled ride-hailing company seeks to repair its reputation…Of paramount importance, the company stressed, is Uber's search for a chief operating officer to help Mr. Kalanick. In addition, Uber is overhauling its human resources department, improving its relationships with drivers, and soliciting feedback from concerned employees. The company also plans to release a report on the diversity of its work force this month, and will conclude an investigation into its workplace culture by the end of April".
The Other Airbnbs
In Glusac, The Other Airbnbs: Alternative Home-Sharing Rentals, nytimes.com (3/13/2017) it was noted that "What Airbnb has popularized-the peer-to-peer rental of apartments, homes and spare bedrooms-the market has embellished with a roster of new and growing services that offer home sharing. In a sign of a maturing market these alternatives to Airbnb often carve potential users into niches, targeting, for example, interior design fans or gay travelers. They also reduce the volume of results users generally have to wade through to find the perfect home rental…These newer services are both chasing and feeding a general expansion in home rentals. In the United states alone, private accommodation rentals tallied about $32 billion in 2016″.
Airbnb Becomes Aibiying
In Tsang & Mozur, Airbnb's Rivals in China Hold Hands in a Nervous New Market, nytimes.com (3/22/2017) it was noted that "Sun Huifeng liked the idea of tapping Airbnb or one of its rising local competitors to rent out his spare Beijing bedroom… Xiaozhu, a Chinese version of Airbnb, swung into action. It ran him through the company's guest-vetting system, helped him install a password-based lock on the door to his Beijing apartment and provided bright pink cushions for his sofa. Twice a week, Mr. Sun carefully waters the plants Xiaozhu gave him. Airbnb sees big promise in China, where travel spending reached nearly $500 billion in 2015 thanks to a new generation of domestic tourists. On Wednesday in Shanghai, Airbnb unveiled a new Chinese name-Aibiying".
In Airbnb doubles investment in China, changes name for Chinese market, etn.travel (3/23/2017) it was noted that "Home-sharing giant Airbnb is adopting the name 'Aibiying' in China…that translates as 'welcome each other with love' as it doubles its investment in the country and triples its local workforce to serve the world's largest population of travelers".
Travel Law Article: The Andrews Case
The Court in the Andrews case noted "the following facts are taken from the complaint. On February 4, 2008, Andrews was a guest a (the Blackwell Inn) located in Columbus, Ohio. Blackwell is owned and operated by Ohio State University (OSU). In the days leading up to her hotel stay, Illinois resident Mr. X contacted Blackwell by phone to confirm that Andrews was staying at the hotel and asked to be assigned the room next door to her. Blackwell granted (Mr. X's) request. After checking into the hotel on February 4, (Mr. X) retrofitted the peephole on Andrew's hotel room door. In doing so, he was able to record video of her activities in the room, including changing and dressing. Eventually, he posted these videos on the Internet".
Preferred
"Defendant Preferred is a corporation with its principal place of business in Chicago, Illinois. It provides marketing, sales and reservation services to its network of hotels for a fee. Blackwell is a member of Preferred's network and utilizes Preferred's marketing and Internet reservations services. Andrews alleged that Preferred is liable for Blackwell's staff disclosing her hotel stay and room to (Mr. X) and assigning him the room next door to her, without her prior consent thereby allowing him to engage in his tortious activities".
Theory Of Liability
"Plaintiff's theory of liability is that Preferred 'owned, operated, controlled, maintained, managed, supervised, handled reservations for and/or were otherwise responsible for The Blackwell Inn' and that Blackwell 'was the agent and/or joint venture of Preferred…acting within the course, scope and authority of said agency and/or venture'. Preferred 'had a duty to exercise reasonable and ordinary care and action in and about the ownership, management, maintenance, supervision, control and operation of Blackwell and its reservation system, and each of their employees, agents, servants and independent contractors, all to the benefit of the guests'. Plaintiff also alleged that Preferred…had a right to govern the hotel's policies and share in the hotel's profits and losses. Based on this theory, plaintiff alleged claims against Preferred for negligent infliction of emotional distress and invasion of privacy".
The Court's Analysis
"The affirmative matter raised by Preferred in its motion to dismiss…is that it did not owe a duty of care to plaintiff and it was not in a joint venture with Blackwell, and therefore it could not be held liable for Blackwell's disclosure of details regarding the plaintiff's hotel stay to (Mr. X) or the assignment of (Mr. X) to the room next to plaintiff without her prior consent". Plaintiff argues that Preferred can be held liable for the events that occurred to Blackwell because either (1) Preferred was a member of a joint venture with Blackwell to operate the hotel or (2) Preferred voluntarily assumed a duty of care to plaintiff".
"Standards Of Excellence"
"[P]laintiff suggests that Preferred's contractual requirement that its member hotels comply with its 'Standards of Excellence' equates to Preferred's right to direct the conduct and policy of Blackwell and exert control over its operation. Contractual agreements that require one party to perform or forbid performance of a particular act does not equate to control of management for the purpose of imposing a joint venture".
No Evidence Of Joint Venture
"Here, the written agreement does not give preferred any degree of joint control over the operation of Blackwell. Although Preferred requires that its member hotels follow the 'Standards of Excellence', the evidence before us established that member hotels, including Blackwell's, are not required to be in complete compliance with Preferred's standards and the hotels may interpret the standards and make adjustments or improvements at their discretion. Preferred merely provides a list of standards that it wants its member hotels to meet at a 70% or higher level, but Preferred does not actually engage in any management or control over the hotel, its operations or its staff…Although plaintiff also contends that there was a sharing in the profits and the losses of Blackwell, there is no evidence in the record to support this conclusion".
Voluntary Undertaking
"Negligence cannot be established unless the defendant owed the plaintiff a duty of care…Illinois courts have adopted section 324A of the Restatement (Second) of Torts (1965) which provides that one may be liable to a third person for the negligent performance of a voluntary undertaking…Under this theory, the scope of an assumed duty 'is limited to the extent of the undertaking' and must be narrowly construed…To determine the extent of the voluntary undertaking we consider…both the specific act undertaken and a reasonable assessment of its underlying purpose".
Plaintiff's Evidence Of Undertaking
"Plaintiff argues that Preferred's voluntary undertaking was evidenced by several factors: (1) Preferred's requirement that its member hotels comply with its 'Standards of Excellence' which included two standards involving guest privacy; (2) Preferred's hiring of independent inspectors to review compliance with these standards; and (3) the appearance of Preferred's signage in the hotel informing hotel guests that the hotel is a member of Preferred's network. Plaintiff contends that because Preferred has two privacy related standards (that the hotel communicate the room rate and room number in writing at check-in and proof of identity must be shown before a duplicate key is issued), the absence of a standard relating to disclosing guest identity and room number or placing a guest next to another on request is a breach of voluntary undertaking to protect a guest's privacy…
plaintiff argues that Preferred negligently failed to prevent Blackwell from disclosing the identity of Andrews, the dates of her stay, her room number and in granting (Mr. X's) request to be assigned a room next to Andrews".
No Voluntary Undertaking Found
"We find that Preferred's actions do not rise to the level of a voluntary undertaking…although Preferred provides its hotels with a list of guest standards to follow, Preferred has no employees at its member hotels and exercises no control over the policies, procedures and general operation of these hotels. Plaintiff fails to identify anything in the records to support its assertion that Preferred assumed a duty to protect the privacy of Blackwell's guests under its marketing and reservation agreement with Blackwell other than the two standards related to written room rates and room assignment and issuance of duplicative keys…it is clear that the extent of Preferred's undertaking to Blackwell was to provide a reservation platform for booking rooms over the Internet and issuing the two aforementioned standards".
No Duty To Protect Privacy
"There is no evidence that supports the conclusion that, in providing this service and publishing these standards, Preferred voluntarily undertook an additional duty to protect the privacy of other guests of Blackwell, of which it had no knowledge or connection whatsoever, by undertaking duties to instruct Blackwell's staff against giving guest information or room numbers or assigning guests in the manner that is alleged in this complaint…We conclude…there is no evidence to support a finding that a voluntary undertaking was made by Preferred to protect the privacy of plaintiff".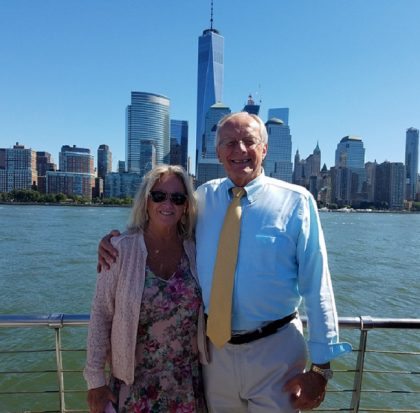 The author, Thomas A. Dickerson, is a retired Associate Justice of the Appellate Division, Second Department of the New York State Supreme Court and has been writing about Travel Law for 41 years including his annually updated law books, Travel Law, Law Journal Press (2016), Litigating International Torts in U.S. Courts, Thomson Reuters WestLaw (2016), Class Actions: The Law of 50 States, Law Journal Press (2016) and over 400 legal articles many of which are available at nycourts.gov/courts/9jd/taxcertatd.shtml. For additional travel law news and developments, especially, in the member states of the EU see IFTTA.org
This article may not be reproduced without the permission of Thomas A. Dickerson.
Read many of Justice Dickerson's articles here.