I Ardika Gede has served twice as the appointed Minister for Culture and Tourism of the Republic of Indonesia under two Presidential Cabinets, President Abdurraham Wahid and President Megawati Soekarnoputri.
I Gede Ardika (born February 15, 1945 in Singaraja, Bali, was the former Minister for Culture and Tourism in Indonesia.
Singaraja is a port town in northern Bali, Indonesia. It's known for Dutch colonial–era warehouses on its waterfront. Gedong Kirtya Library houses ancient palm-leaf manuscripts (lontar). Museum Buleleng displays stone coffins and ceremonial masks. Pictures of Buleleng kings adorn the 1600s royal palace Puri Agung. Pura Jagatnatha temple has carvings of Hindu gods. South, Gitgit Waterfall is set amid a tropical forest.
Mr. Gede Ardika was named Indonesia's new Minister of Tourism and Culture in a much-anticipated cabinet reshuffle on August 24, 2000.
Ardika replaced State Minister of Tourism Djaelani Hidayat, who does not feature in Abdurrahman Wahid's new trim 26-member cabinet. The ministries of culture and tourism were merged in the reshuffle.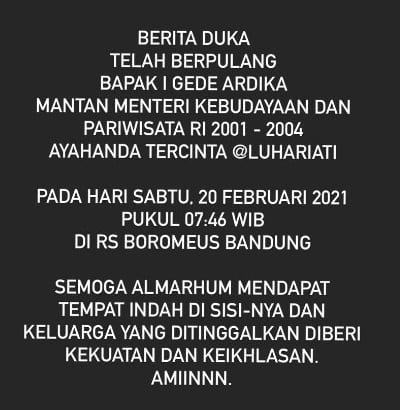 During his leadership, a terror attack known as the 2002 Bali bombings occurred on October 12, 2002 in the tourist district of Kuta on the Indonesian island of Bali. The attack killed 202 people (including 88 Australians, 38 Indonesians, 23 Britons, and people of more than 20 other nationalities); 209 people were injured. A second Bali bombing occurred in 2009.
The Minister of Culture and Tourism, Gede Ardika, was calling for foreign nations to help in 2002 to revive Bali's tourism industry following the bomb attack. In response to his call, organizations such as the World Tourism Organization and the World Bank were mobilized.
Geoffrey Lipman who was the Assistant Secretary General for UNWTO at the time, sent this message of condolence: "Very sad. A wonderful person full of empathy and decency. During the Bali bombing, I was in New Zealand for UNWTO and diverted back to meet him and do [a] press event to show solidarity. He was so appreciative.

"Some years later, I was doing a Green Growth Roadmap study for Bali with colleagues from Victoria University in Australia, and he came over from Jakarta to take our team to a village close to where he was born to help explain the local belief in Tri Hita Karana – linkage of deity, nature, and humanity which he insisted must be the basis of the tourism green growth strategy and which made so much sense. RIP."
Many countries including the United States issued travel warnings against Indonesia. The marketing agency for the Ministry of Culture and Tourism under Minister Ardika was established in the United States under the leadership of Melanie Webster from California and Juergen Steinmetz in Hawaii.
eTurboNews was launched at that time with the help of Indonesian sponsors and to educate US travel agents about Indonesia's travel and the tourism industry, as well as the safety and security situation in this large Southeast Asian country.
The Indonesian Council of Tourism Partners (ICTP) was also founded during that time to bring the public and private sector of the travel and tourism industry in Indonesia together. Later, ICTP turned into the International Coalition of Tourism Partners with tourism members around the globe. ICTP is now based in Bali, Honolulu, Seychelles, and Brussels under the leadership of Feisol Hashim in Bali, Juergen Steinmetz in Hawaii, Geoffrey Lipman in Brussels, and Alain St. Ange in Seychelles.
Juergen Steinmetz and the entire staff at eTurboNews related heartfelt condolences to the former Minister's family and the travel and tourism industry in Indonesia. Mudi Astuti, the former operation partner in Jakarta and link to the former Minister, informed eTurboNews about this tragic news.
Related News