In line with its business operation needs, Hong Kong Airlines is introducing additional Airbus A330-300 widebody aircraft to serve its route network and expedite business recovery. To ensure the necessary resources are in place to support its operations, the airline is also stepping up its recruitment efforts, looking for talent both locally and internationally.
The newly added A330 widebody aircraft made its first flight to Bangkok on 21 June, arriving just in time to accommodate the unprecedented pent-up summer travel demand. Additionally, the carrier is excited to announce the addition of two more A330s this summer, further enhancing its capacity to deliver the best possible service to customers and support its expanding route network.
With a total of three additional A330 widebody aircraft joining the fleet, the company is confident in its ability to meet passengers' needs and drive business recovery.
Hong Kong Airlines Chairman, Mr Hou Wei said: "During the recent Dragon Boat Festival holiday, our ticket sales were strong, reaching a peak since the pandemic began. The load factor even exceeded pre-pandemic levels by 7%, the result is quite encouraging, as our profitability has significantly improved, and it also demonstrates our flight resumption efforts this year continue to gain traction. We will accelerate the recovery of flights and expand the coverage of our flight destination network."
"In terms of talent recruitment, despite the fierce competition in the local and overseas talent markets, we have successfully achieved our recruitment goals for the first half of the year. The company will continue to actively recruit to support our rapidly growing business and expanding fleet, and allocate resources for effective training to increase competitiveness. We look forward to more outstanding talent joining the Hong Kong Airlines team!"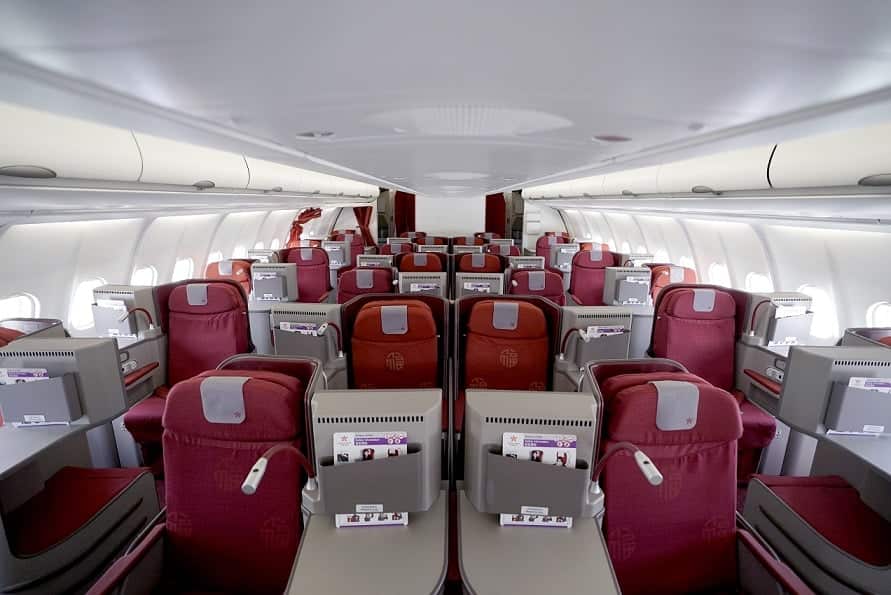 The fuel-efficient A330 widebody aircraft has been a mainstay of the aviation industry for many years. Featuring a total of 292 seats, with 32 in Business Class and 260 in Economy Class, the new A330 is refurbished with Hong Kong Airlines' classic seat covers. Its spacious cabin and comfortable seating make it the ideal aircraft to provide passengers with a delightful flying experience. The aircraft also features ample overhead storage space, which is essential to ensure travelers' comfort.
Hong Kong Airlines reintroduced suitable aged A330 widebody aircraft and steadily expand its team in an effort to rebuild the network and deliver reliable service to customers. Following the launch of a new service to Phuket on 21 June, the airline will resume service to Sanya on 1 July and inaugurate a brand-new service to Nagoya on 8 July.
With more A330s in place, the carrier is going to upgrade its flight operations to destinations such as Tokyo, Osaka, Fukuoka, Nagoya, Bangkok, Taipei, and Shanghai with widebody aircraft, and increase frequencies in July and August to ensure a satisfying and enjoyable summer travel experience.
Hong Kong Airlines is committed to providing a safe and comfortable flying experience. Customers are encouraged to book their next flight with HKA and experience the benefits of this classic widebody aircraft themselves.