Most tourists who had traveled to the island of Maui fell in love with the small harbor tourist town of Lahaina. When the devastating wildfire tore through Lahaina, on the west side of Maui, the travel and tourism industry, tour operators, and resorts were quick to help in any way they could.
Local helicopter companies from around the state stopped carrying tourists on sightseeing tours and delivered food and supplies to the West Maui community.
Local cruise ship and boat adventure companies changed their modus operandi and became first responders, delivering supplies until the bypass road connecting Lahaina with West Maui was reopened.
Resort hotels in Kaanapali took in those who lost their homes in Lahaina and those who came to help.
But while we love to hear stories about the willingness and resourcefulness of tour and activity operators to respond to tragedy as real-life superheroes, it speaks volumes about the quality, strength, and passion of the travel and tourism community. It also speaks volumes about the friendly nature of Aloha, which one can only find in this Pacific Paradise.
Hawaii's economy relies on tourism. Even for those not employed directly by tourism, this dependency does not end.
What will the broader implications for tourism in Hawaii be?
How much more can most SME tour operators, hotels, and vacation rental owners who are still rebuilding from the pandemic withstand? And where do we go from here?
In the short term, everyone has been focused on responding and helping with the relief efforts.
A local helicopter company partnered with Red Lightning, a company that normally provides disaster aid and emergency relief supplies to developing countries, to fly Starlinks over to Lahaina in order to provide them with interim internet access.
Whether the tourism industry community can afford to foot the bill themselves or needs help covering the costs of their relief efforts, one has to be worried about the implications, since many of them are still recovering financially from the pandemic, if travelers choose to stay away or cancel their plans.
This may be the straw that broke the camel's back for a lot of businesses, sadly.
We want to make sure that everybody hears that Maui is open, which is the current and more urgent message from many businesses on Maui. There was little support for this message from those who are getting taxpayer money to promote tourism in the Aloha State.
Juergen Steinmetz, chairman of the World Tourism Network, a Hawaii-based global advocate for small and medium-sized businesses in 133 countries, said:
"In the first days after the disaster, the Hawaii Tourism Authority and Hawaii Governor Green made a big mistake by discouraging tourists from visiting Maui and scaring other tourists throughout the state to leave. It created panic among our visitors, and a run to the airport started. Visitors on Oahu, and Kauai, all far away from the fires in West Maui, also left the State immediately.
Every airline leaving any airport in Hawaii to fly anywhere to the US mainland, Canada, Japan, Korea, Australia, Taiwan, or New Zealand was completely sold out for days, creating a panic among visitors to leave the State.
Flights to Hawaiian airports arrived empty, with $89.00 one-way seats for sale from the US Mainland. Such low rates hadn't been seen even during COVID lockdowns.
Tourists who had not yet left for their Hawaiian vacation rebooked to the Caribbean, Thailand, and other competing destinations.
The Hawaii Tourism Authority did little to stop this, educate visitors, or even attempt to get the correct message out prominently and effectively.
The Hawaii Tourism Authority ignored reports in the media around the world, that people in Hawaii are angry at tourists, saying it may not be safe to remain in the State.
Journalists from every corner of the world showed the burning city of Lahaina again and again, along with tourists fleeing the islands.
Hawaii had only once been at the center of global media attention when State officials warned the entire population and visitors of a missile attack on the island.
This was corrected and did not result in visitors leaving. But even during hurricanes, Hawaii has never been the center of such global media attention overnight, and this was a clear first for the political leadership and for the Hawaii Tourism Authority (HTA).
HTA PR professionals were not trained to deal with a sudden crisis of that magnitude. The local PR agency, even though it is part of a major global firm, Finn Partners was also not prepared or possibly not allowed to deal with effective crisis-mitigating communication.
John de Fries, CEO of the Hawaii Tourism Authority, never took the microphone, never attended a press conference, never agreed to an interview, but had his PR agency issue boring press statements with a long "About line" while still implementing his theme of protecting the Hawaiian people from tourists, which may be a higher priority for his agency than promoting visitors to actually visit the Aloha State and spend money.
Even now, when everyone is waking up to an exodus of tourists, and more than 2 million dollars in emergency marketing funds for HTA have just been approved, this message has not changed.
The Hawaii Tourism Authority CEO, who is the first native Hawaiian CEO of the State agency, started a movement that is focused on responsible tourism, allowing only mindful tourists who enjoy and respect the Hawaiian Culture to feel welcome.
He failed or maybe he did not want to take charge of the biggest overnight crisis tourism ever faced in the State except for COVID.
Even during COVID, Mr. De Fries was hardly ever seen talking to the press, and had not once returned a call from eTurboNews.
At the same time, the Hawaii Tourism Authority was overjoyed yesterday that Norwegian Cruise Line started its sail to Maui again.
Of course, this is good news for some, but it does not do much for local small businesses, and doesn't add to hotel occupancy.
In HTA's press release, it was pointed out that this cruise line was proud of having spent $ 50,000 on recovery for Lahaina but failed to say it was also making $1.7 million profit after costs on just one cruise run.
HTA still does not understand why someone going to Waikiki is most likely not choosing a holiday to be mindful and focus on experiencing culture. Such visitors, and Waikiki Hotels, Restaurants, nightclubs, and local attractions have other priorities.
Private industry leaders have a more urgent and clear message but simply don't have the audience a CEO of a tourism board could get.
Please don't stop coming to Hawaii
Of course, the deadly fires in Lahaina are a terrible situation outside the influence of tourism, but the result today is that tourists stay away from Hawaii, which is a PR disaster and a $2 million opportunity for PR to correct it afterward.
"Please don't stop coming to Hawaii, it's safe. The devastation has occurred, now we come together as a tight-niched community and begin to recover and rebuild."
While the west side of Maui is closed for recovery, the rest of Maui and the other Hawaiian Islands are open for visitors, and operators that are contributing their own funds and staff to the relief efforts need visitors to keep supporting their economy in order to continue to be viable.
Maui residents want people to visit Maui. They want to keep their employees employed. The appeal to the travelers is: "Please come and spend your money, so we can use the money to rebuild."
The World Tourism Network teamed up with its member, the New York International Travel Show, to provide free exhibition space to qualified companies in Hawaii. WTN related this request to the Hawaii Tourism and Lodging Association in Honolulu and to the Maui Hotel Association and is waiting for a return call. Those interested are invited to contact WTN in Honolulu.
The Big Picture is that this is not going away
From hurricanes to heat waves to wildfires, if it seems like it's one thing after another, that's because it is.
"Recent studies show that climate change has made extreme weather events 50% more likely," writes Gloria Guevara, Head of the Sustainable Tourism Global Center, in her article Disaster is on the horizon for travel and tourism if we don't start doing things differently.
HE Gloria Guevara is the top advisor for the Saudi Arabian Minister of Tourism Ahmed Al-Khateeb and was the former CEO of the World Travel and Tourism Council, and a former tourism Minister for Mexico.
"The Sustainable Tourism Global Center is a Saudi Initiative under the leadership of the minister who put Gloria Guevara in charge of running this project. I had the privilege to witness the progress of this center in Saudi Arabia, and I am convinced this well-funded initiative that is about to be launched by the Kingdom for the world will be the biggest achievement for climate change and sustainable tourism in the world.", says Juergen Steinmetz, WTN Chairman in Honolulu.
" I had contacted HPU and the University of Hawaii to get involved in this project, but there was little interest, unfortunately."
The report lists weather-related disasters (fires, floods, landslides, typhoons, and extreme storms) more and more frequently.
Heat waves in Europe are increasing in intensity and duration. This summer, popular Athens attraction The Acropolis made the news for shutting down at noon, due to employees striking about unsafe conditions for staff and visitors.
While they adapted their tours by adding headsets to make it easier for the guides and giving the option to replace part of an outdoor tour with an indoor tour (such as a museum) or to have a refund, very few (maybe five percent) chose the alternatives:
Unpredictable weather conditions in the future will have a greater impact on traveler's choices in Europe and North America during the summer months.
While a longer peak season could have its benefits for operators, in the long term, the negative impacts of climate change will be impossible to ignore.
Within 10 years, many beaches are going to be underwater, predicted Berna. There's no doubt that certain destinations are going to go off the map, and we're just not going to be traveling to them.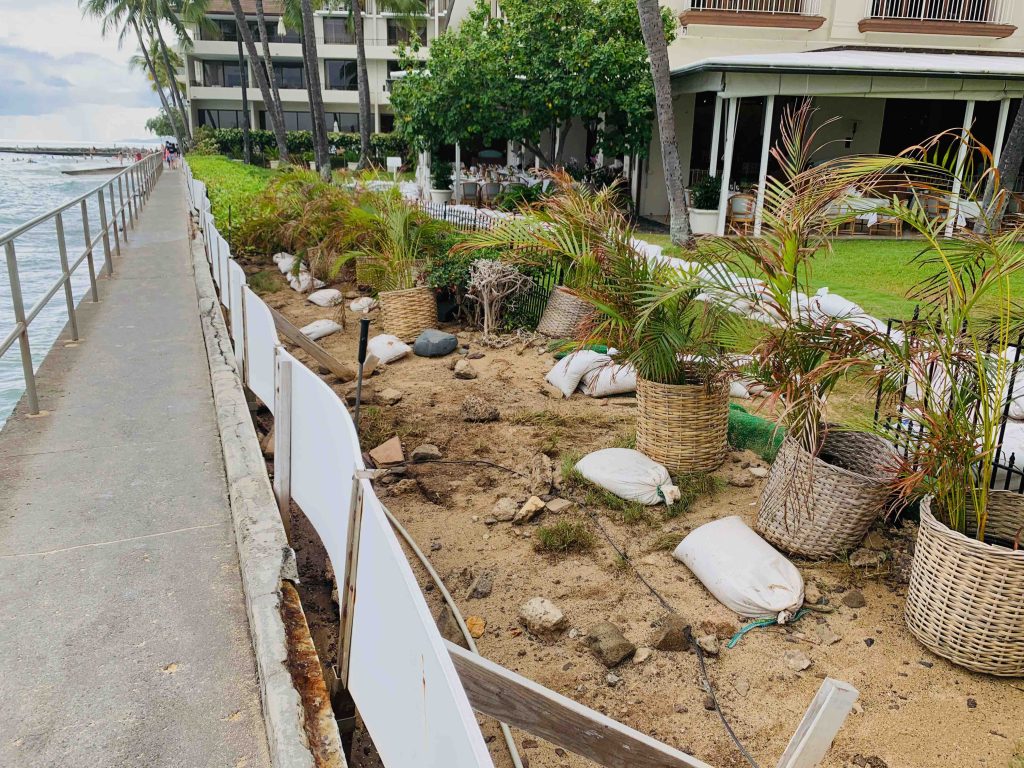 Steinmetz explained: "When I moved to Hawaii in 1988, I remember beautiful white sandy beaches in front of the Halekulani and Sheraton Hotel in Waikiki. Now these beaches are gone, and even the elevated cement sidewalk is often flooded forcing people to walk through the hotels to escape the water."
Regardless of whether you believe the latest disasters are due to climate change or giant lasers from space, the reality is operators need to prepare and adapt in order to mitigate the negative impacts of weather-related challenges and ensure their long-term viability in the future.
Some attractions are looking at ways to adapt their policies in the face of increasingly challenging weather conditions. For example, SeaWorld has expanded its inclement weather policy to include a wider range of inclement weather and will offer refunds when abnormal weather causes ride closures for over 60 minutes, early park closures, or temperatures reach a heat index of 110 degrees or above.
Tourism accounts for about eight percent of the world's carbon emissions, according to studies by WTTC and UNWTO. Just getting on a plane leaves a carbon footprint. The sector has to face the reality that, while ground operations are getting greener, travelers still must physically reach their destination.
Geoffrey Lipman, head of SUNx Malta and an expert on climate change, will launch its Climate Friendly Travel Club at the upcoming World Tourism Network summit TIME 2023 in Bali on September 29-30. This will be an important step with opportunities for the traveler and the industry.
Mr. Lipman is also involved in the Sustainable Center in Saudi Arabia and is the president of the Hawaii-based International Climate & Tourism Partners (ICTP). ICTP will merge to become an integrated part of the World Tourism Network. This will be announced at TIME 2023 in Bali as well.