GVB, alongside twelve local tourism partners, represented various Guam hotels and optional tours. The roadshow was from August 2-4, 2023.
With a goal to revitalize Korean arrivals and further develop routes to secondary cities, the Guam delegation met with over 300 travel agents and airline partners to provide a Guam update, re-establish relationships, and make new connections after a four-year hiatus since the last GVB Roadshow in 2019.
The Guam delegation was joined by the following GVB members — Core Tech (Dusit Thani Guam Resort, Dusit Beach Resort Guam, and Bayview Hotel), Crowne Plaza Resort Guam, Fish Eye Marine Park, Guam Ocean Park, Hoshino Resorts Guam, Hyatt Regency Guam, Lotte Hotel Guam, Onward Mangilao Golf Club, Pacific Islands Club Guam, Royal Orchid Hotel, Sentry Hospitality, and The Westin Resort Guam.
"Korea continues to be our top market and we are grateful for this opportunity to reconnect with travel agents, airline partners and media in prospective areas outside of Seoul."
"The enthusiasm and responses we've experienced are very promising," said GVB Board Director, Ho S. Eun. "Thank you to all the Guam partners who joined us and made the roadshow a huge success."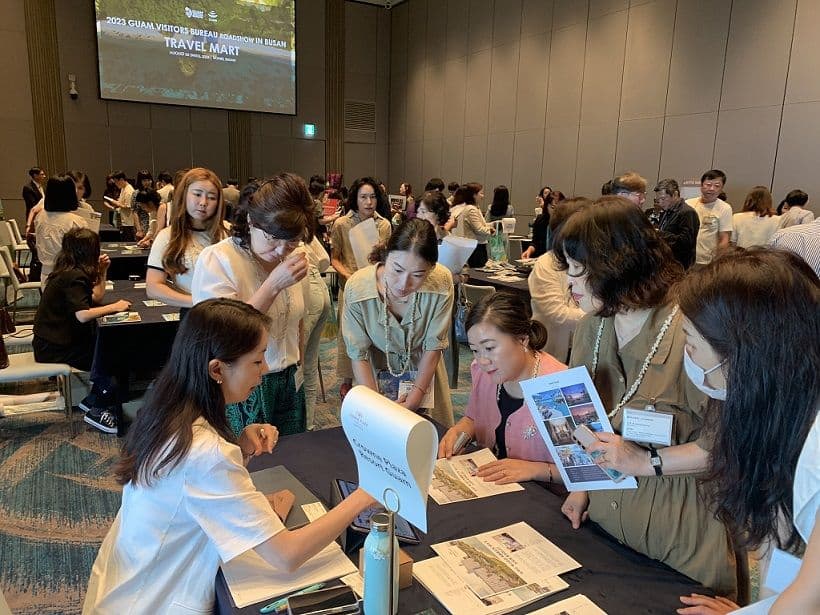 GVB showcases Guam at 26th Boryeong Mud Festival
Shortly thereafter, GVB and a CHamoru cultural delegation made their way to Boryeong on August 5 and 6 for the city's annual mud festival, which attracts more than one million international and domestic visitors every year.
Showcasing CHamoru culture to festival attendees were local musicians Mr. Vince San Nicolas and Ms. Suemalee Quinata along with Miss Guam International 2020 Franky Lynn Hill.
"We thank Mayor Kim Dong-il, the festival committee and the people of Boryeong for their warm hospitality. We're excited for future projects and collaborations," said GVB Director of Global Marketing Nadine Leon Guerrero.
GVB hosted a giveaway event at the Guam booth sharing local delicacies and souvenirs, further increasing the Bureau's social media followers over the two-day period.