Ahead of the busy summer travel season, Aer Lingus Regional, exclusively operated by Emerald Airlines, has completed the launch of its full summer schedule from Belfast City Airport to 13 destinations across the UK.
This marks a significant milestone for the carrier, being the largest airline to operate at Belfast City Airport, further strengthening its commitment to providing air travel services to customers across Northern Ireland and beyond.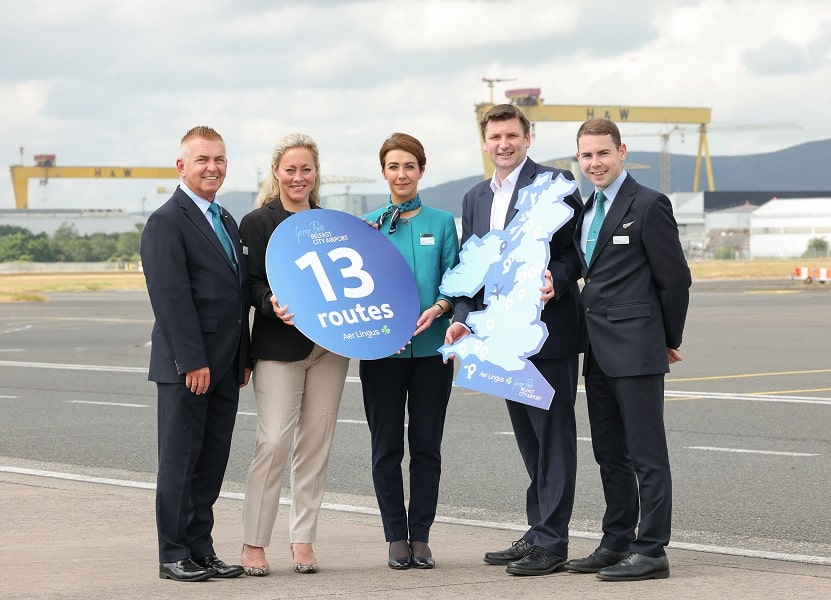 Katy Best, Commercial Director at Belfast City Airport, commented:
"The summer is one of the busiest times of the year at Belfast City Airport, and we often have up to 10,000 passengers a day using the terminal.
"Aer Lingus Regional's summer schedule incorporates flights to 13 destinations, including popular holiday locations such as Jersey and Isle of Man. This provides passengers with ultimate choice and convenience to help them make it a summer to remember.
"In addition to an extensive selection of routes, passengers who choose Aer Lingus Regional from Belfast City Airport can travel hassle-free thanks to our unrivalled city centre location and average security processing times of just six minutes.
"We look forward to the future of our partnership with Aer Lingus Regional and to greeting many more travelers to Belfast City Airport."
Commenting on the announcement, Keith Butler, Chief Executive Officer at Emerald Airlines, said: "We are delighted to be providing a plethora of choice for those travelling to and from Belfast City. Whether it's a city break in Manchester or in a summer weekend in Newquay, our destinations cater for those travelling for both business and leisure purposes. We are committed to providing the highest standard of customer service, ensuring seamless travel experiences for our passengers."
Passengers can now enjoy seamless connections from Belfast City Airport to Birmingham, Cardiff, East Midlands, Edinburgh, Exeter, Glasgow, Jersey, Isle of Man, Leeds Bradford, Manchester, Newcastle, Newquay and Southampton.
Belfast City Airport is owned by a fund managed by 3i.
The airport's airline partners are Aer Lingus, British Airways, easyJet, KLM, Loganair, and Lufthansa.
Destinations served by the airport:
o Aberdeen
o Amsterdam
o Birmingham
o Bologna
o Bristol
o Cardiff
o Dundee
o East Midlands
o Edinburgh
o Exeter
o Frankfurt
o Glasgow
o Inverness
o Isle of Man
o Jersey
o Leeds Bradford
o Liverpool
o London City
o London Gatwick
o London Heathrow
o London Luton
o Manchester
o Newcastle
o Newquay
o Palma de Mallorca
o Southampton
o Verona