Mongolia might not be the first place you think of for fashion but it is certainly taking up its rightful place by looking inward and promoting a new era of fashion.
Fashion is a gate opener for tourism, and Miss Mongolia Tourism knows this.
Chahar Mongolians usually wear sheep-tailed leather hats in spring and winter. In recent times, more Mongolian men from Chahar wear Western-style hats, while women wear small domed hats, men wear runners instead of riding boots and an increasing number of young women wear high-heeled riding boots
The increase of local Mongolian designers has played a vital role in its rising fashion industry. Although Mongolian fashion has been heavily influenced by trends in Korea and Japan, it appears to be changing with the promotion of a new generation of local designers in the global market.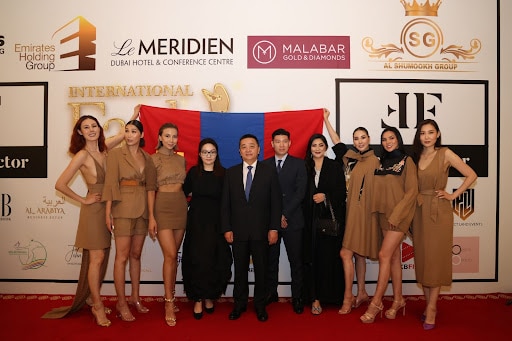 Paving the way for Mongolia's emergence on the fashion scene is Gantogoo Nicole, former beauty queen, and Miss Mongolia Tourism Association President. Nicole has been awarded by the recently concluded International Fashion Gala Awards held at Le Meridien Dubai for her efforts in bridging UAE and Mongolia through arts and fashion.
Local Mongolian fashion brand Red Camel was one of the participating designers at the fashion event. The brand has captured the guests' attention through its eye-catching showcase of the finest Mongolian cashmere.
H. E Odonbaatar Shijeekhuu, the first Ambassador of Mongolia to the UAE, and Bilguun Byambakhuyag, Council member of Mongolia to the UAE are both present at the event to support the Mongolian delegation.
Showcasing local Mongolian designs in a big, international market such as the UAE will ensure our country's presence on a global scale while taking pride in our native culture." says Gantogoo Nicole. "Local designers themselves are embracing generation-old techniques and incorporating them for a more modern take on their creations while still paying homage to their ethnic roots," she added.
Related News