A China Eastern Airlines Boeing 737 airline, flight number MU 5735 with 133 people on board crashed in Tengxian County, Wuzhou, Guangxi. Photos submitted by local residents were posted on social media.
Rescue teams have assembled and are approaching the crash site. The number of casualties is unknown, according to Chinese CCTV.
China Central Television is a Chinese state-owned broadcaster controlled by the Chinese Communist Party. CCTV has a network of 50 channels broadcasting different programs and is accessible to more than one billion viewers in six different languages.
MU5735 was a passenger flight scheduled to fly on a domestic flight from Kunming to Guangzhou, China. The flight on Monday, March 21 is now confirmed as crashed.
According to airport monitors, this flight shows canceled, which doesn't seem to be true, since it took off according to flight radar, and CCTV confirmed the accident.
A tweet shows smoke coming from the alleged crash site.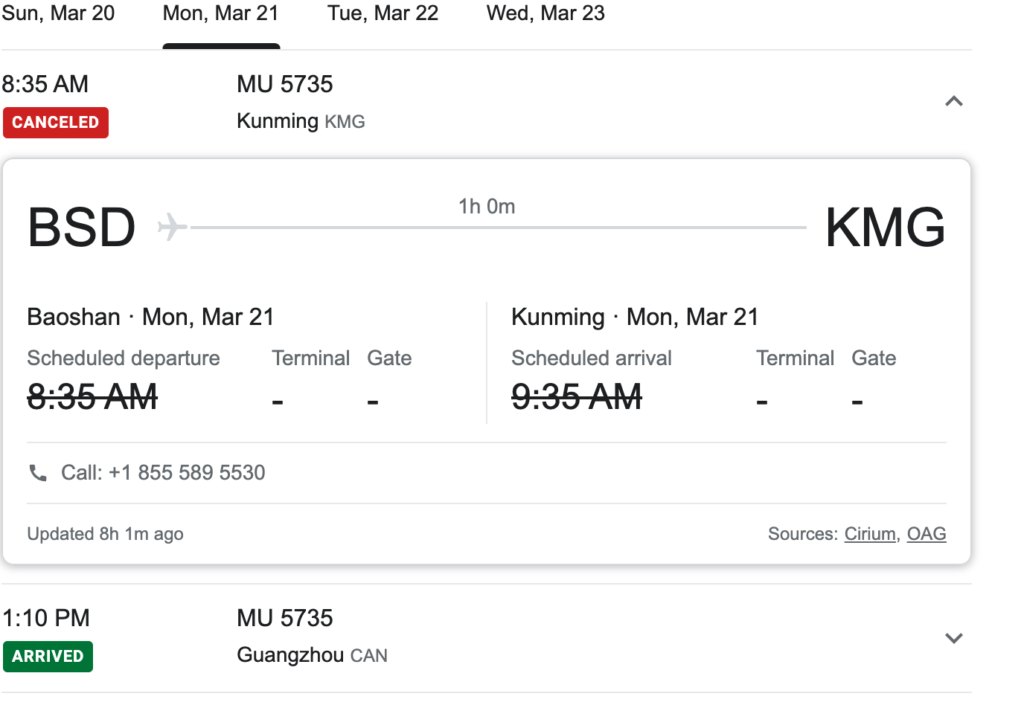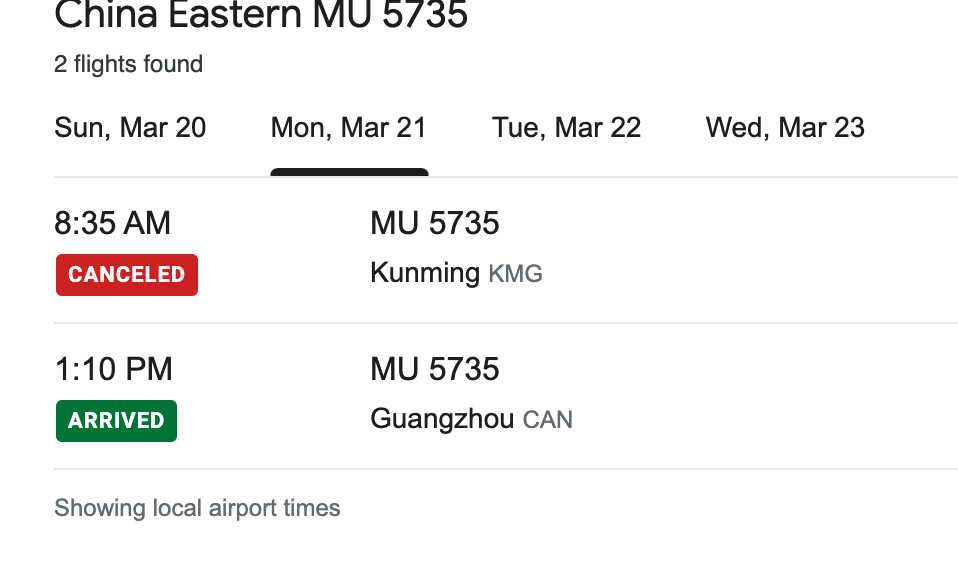 China Eastern Airlines Corporation Limited, also known as China Eastern, is an airline headquartered in the China Eastern Airlines Building, on the grounds of Shanghai Hongqiao International Airport in Changning District, Shanghai.
The airline had three recorded accidents in the past
China Eastern Airlines Flight 583  flight from Shanghai, China, to Los Angeles, United States on April 6, 1993, had an emergency landing at Shemya Air Force Base in Alaska with 3 fatalities and 60 hospitalized. A crew member accidentally deployed the slats near the Aleutian Islands
China Eastern Airlines Flight 5210 (CES5210/MU5210), also known as the Baotou Air Disaster, was a flight from Baotou Erliban Airport in Inner Mongolia, China, to Shanghai Hongqiao International Airport, with a planned stopover at Beijing Capital International Airport. On 21 November 2004, just two minutes after takeoff, the Bombardier CRJ-200ER fell from the sky and crashed into a lake in Nanhai Park, next to the airport, killing all 53 people on board and two more on the ground.
An investigation by the Civil Aviation Administration of China (CAAC) revealed that the plane had not been deiced by the ground crew while it was parked on the tarmac. It was the deadliest accident involving a CRJ-100/-200, and the deadliest in China Eastern Airlines' history.
China Eastern Airlines Flight 5398 (MU5398) was a McDonnell Douglas MD-82 airliner from Shenzhen's Bao'an International Airport to Fuzhou Yixu Airport in Fujian. On 26 October 1993, it crashed on approach to Fuzhou Yixu Airport. The aircraft overran the runway while landing in heavy rain and high winds. Two of the 80 passengers and crew on board were killed.
Related News