A similar event is being organized to attract people across Tanzania, Africa, and the rest of the world.
This event will be to trek and then conquer the snow-capped peak of the Mount Kilimanjaro early in December of this year – 2021.
This will coincide with marking 60 years of Tanzania's independence in a way that makes a difference.
---
Climbers this time are going to send a message of hope from the "Roof of Africa" that Tanzania and other African nations are safer for travel at this time when COVID-19 vaccinations are taking place almost all over the continent.
When Tanzania lit the famous "Freedom Torch" on the peak of Mount Kilimanjaro 60 years ago, it symbolically meant to shine across the borders and then bring hope for the whole of Africa where there was despair, love where there was enmity, and respect where there was hatred.
But for this year, climbers to the peak of Mount Kilimanjaro are going to send a message of hope that Tanzania is a safe destination for visitors and also that Africa is now safe for travel after several governments on this continent taken various measures to contain the pandemic.
Campaigns to attract people from different parts of Africa and the world to conquer this highest peak of Africa are a part of the celebrations to mark 60 years of Tanzania independence on December 9 of this year, as the world is slowly emerging from the impacts of the COVID-19 pandemic.
Tanzania National Parks, the custodian of Mountain Kilimanjaro's conservation, is now working jointly with other tourist companies to attract people to celebrate Tanzania's 60 years on the Roof of Africa.
Safety measures are in place, and travelers are reuniting with their loved ones to the unique places where their souls wish to connect.
Covered in mist for most of the day, Mount Kilimanjaro, the highest peak in Africa, is a unique Tanzanian tourist vacation destination, attracting about 60,000 climbers each year.
The mountain represents a worldwide image of Africa, and its towering snow-capped symmetrical cone is synonymous with Africa.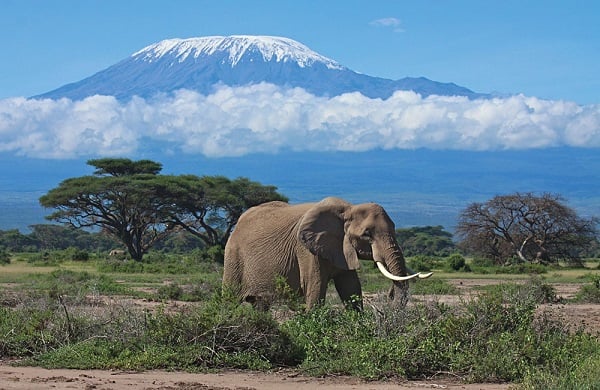 Internationally, the challenge of learning about, exploring, and climbing this mysterious mountain has captured the imagination of people throughout the world. To many, the chance to climb this mountain is an adventure of a lifetime.
In 1961, the flag of the newly independent Tanzania was carried up the mountain to be flown on its whitish peak. The freedom torch was lit on the peak as well in order to stir up campaigns for unity, freedom, and fraternity.
Mount Kilimanjaro remains a symbol and pride of East Africa by its tourism prominence. This African highest mountain has been listed among 28 tourist destinations in the world worthy of being lifetime adventures.
Visitors who cannot climb to its peak may enjoy viewing its natural beauty from the villages where they are able to take photographs of this monolithic mountain.