World Travel Awards 2019: Complete list of winners for Africa & the Indian Ocean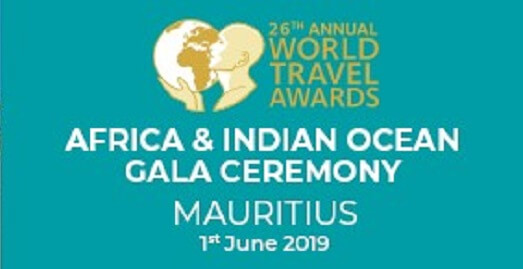 The World Travel Awards took place in Mauritius. Businesses from all over Africa were competing to be the best of the best. This is the 26th Wrld Tavel Awards organized by Graham Cooke. African Tourism Board President Alain St. Ange attended.
The full list of Indian Ocean & of Africa winners of the 26th World Travel Awards™.
Indian Ocean
| | |
| --- | --- |
| Indian Ocean's Leading Adventure Tourism Destination 2019 | Mauritius |
| Indian Ocean's Leading Airline 2019 | Air Mauritius |
| Indian Ocean's Leading Airline – Business Class 2019 | Air Mauritius |
| Indian Ocean's Leading Airline – Economy Class 2019 | Air Seychelles |
| Indian Ocean's Leading Airline Brand 2019 | Air Mauritius |
| Indian Ocean's Leading Airport 2019 | Sir Seewoosagur Ramgoolam International Airport, Mauritius |
| Indian Ocean's Leading Airport Lounge 2019 | Air Mauritius The Amédée Maingard Lounge @ Mauritius International Airport |
| Indian Ocean's Leading Beach Destination 2019 | Maldives |
| Indian Ocean's Leading Beach Resort 2019 | Andilana Beach Resort, Madagascar |
| Indian Ocean's Leading Boutique Hotel 2019 | Paradise Cove Boutique Hotel, Mauritius |
| Indian Ocean's Leading Boutique Hotel Brand 2019 | PER AQUUM Hotels & Resorts |
| Indian Ocean's Leading Cabin Crew 2019 | Air Mauritius |
| Indian Ocean's Leading Car Rental Company 2019 | Europcar |
| Indian Ocean's Leading Cruise Destination 2019 | Mauritius |
| Indian Ocean's Leading Cruise Line 2019 | Cunard |
| Indian Ocean's Leading Cruise Port 2019 | Port Victoria, Seychelles |
| Indian Ocean's Leading Culinary Hotel 2019 | Constance Prince Maurice, Mauritius |
| Indian Ocean's Leading Destination 2019 | Mauritius |
| Indian Ocean's Leading Destination Management Company 2019 | Mautourco, Mauritius |
| Indian Ocean's Leading Dive Destination 2019 | Maldives |
| Indian Ocean's Leading Dive Resort 2019 | Constance Moofushi, Maldives |
| Indian Ocean's Leading Family Resort 2019 | The Sun Siyam Iru Fushi Maldives |
| Indian Ocean's Leading Green Destination 2019 | Madagascar |
| Indian Ocean's Leading Green Resort 2019 | Reethi Faru Resort, Maldives |
| Indian Ocean's Leading Honeymoon Destination 2019 | Maldives |
| Indian Ocean's Leading Honeymoon Resort 2019 | JA Manafaru Maldives |
| Indian Ocean's Leading Hotel 2019 | The Oberoi Beach Resort, Mauritius |
| Indian Ocean's Leading Hotel Brand 2019 | Constance Hotels & Resorts |
| Indian Ocean's Leading Hotel Residences 2019 | Four Seasons Resort Mauritius at Anahita |
| Indian Ocean's Leading Hotel Suite 2019 | Royal Island Suite @ JA Manafaru, Maldives |
| Indian Ocean's Leading Leisure Hotel 2019 | Hulhule Island Hotel, Maldives |
| Indian Ocean's Leading Luxury Hotel Villa 2019 | John Jacob Astor Estate @ The St. Regis Maldives Vommuli Resort |
| Indian Ocean's Leading Luxury Island Resort 2019 | Velaa Private Island |
| Indian Ocean's Leading Luxury Resort 2019 | The St. Regis Maldives Vommuli Resort |
| Indian Ocean's Leading Luxury Tour Operator 2019 | Hey Hey Maldives Pvt LTD |
| Indian Ocean's Leading Luxury Villa Resort 2019 | Maradiva Villas Resort & Spa, Mauritius |
| Indian Ocean's Leading Luxury Water Villa 2019 | Ocean Suites @ Paradise Island Resort & Spa, Maldives |
| Indian Ocean's Leading MICE Hotel 2019 | Holiday Inn Resort Kandooma Maldives |
| Indian Ocean's Leading Nature Destination 2019 | Reunion Island |
| Indian Ocean's Leading New Resort 2019 | The Westin Maldives Miriandhoo Resort |
| Indian Ocean's Leading Private Island Resort 2019 | Velaa Private Island, Maldives |
| Indian Ocean's Leading Resort 2019 | One&Only Le Saint Géran, Mauritius |
| Indian Ocean's Leading Seaplane Operator 2019 | Trans Maldivian Airways |
| Indian Ocean's Leading Sustainable Tourism Destination 2019 | Seychelles |
| Indian Ocean's Leading Tourist Board 2019 | Mauritius Tourism Promotion Authority |
| Indian Ocean's Leading Travel Agency 2019 | Simply Maldives Holidays |
| Indian Ocean's Leading Villa Resort 2019 | Hilton Seychelles Northolme Resort & Spa |
| Indian Ocean's Leading Water Villa Resort 2019 | Sun Aqua Vilu Reef, Maldives |
| Indian Ocean's Leading Wedding Destination 2019 | Mauritius |
| Indian Ocean's Most Romantic Resort 2019 | Baros Maldives |
Madagascar
Maldives
Mauritius
Reunion Island
Seychelles
Africa
| | |
| --- | --- |
| Africa's Leading Airline 2019 | Ethiopian Airlines |
| Africa's Leading Airline – Business Class 2019 | Kenya Airways |
| Africa's Leading Airline – Economy Class 2019 | Kenya Airways |
| Africa's Leading Airline Brand 2019 | Ethiopian Airlines |
| Africa's Leading Airport 2019 | Cape Town International Airport, South Africa |
| Africa's Leading All-Inclusive Resort 2019 | Diamonds La Gemma dell'Est, Zanzibar, Tanzania |
| Africa's Leading Beach Destination 2019 | Diani Beach, Kenya |
| Africa's Leading Beach Resort 2019 | Diamonds La Gemma dell'Est, Zanzibar, Tanzania |
| Africa's Leading Boutique Hotel 2019 | Saxon Hotel, Villas and Spa, South Africa |
| Africa's Leading Boutique Hotel Brand 2019 | Mantis Collection |
| Africa's Leading Business Car Rental Company 2019 | Hertz |
| Africa's Leading Business Hotel 2019 | Transcorp Hilton Abuja, Nigeria |
| Africa's Leading Business Travel Agency 2019 | Satguru Travel & Tourism |
| Africa's Leading Business Travel Destination 2019 | Nairobi, Kenya |
| Africa's Leading Car Rental Company 2019 | Europcar |
| Africa's Leading Casino Resort 2019 | Sun City Resort, South Africa |
| Africa's Leading City Destination 2019 | Durban, South Africa |
| Africa's Leading City Hotel 2019 | Pepperclub Hotel & Spa, South Africa |
| Africa's Leading Conference Hotel 2019 | Radisson Blu Hotel & Convention Centre, Kigali, Rwanda |
| Africa's Leading Conservation Company 2019 | Mantis Collection |
| Africa's Leading Cruise Line 2019 | Silversea Cruises |
| Africa's Leading Cruise Port 2019 | Port of Durban, South Africa |
| Africa's Leading Curated Group Travel Company 2019 | Rovia |
| Africa's Leading Design Hotel 2019 | MannaBay, South Africa |
| Africa's Leading Destination 2019 | Kenya |
| Africa's Leading Destination Management Company 2019 | Destination Kenya |
| Africa's Leading Family Resort 2019 | Leopard Beach Resort & Spa, Kenya |
| Africa's Leading Festival & Event Destination 2019 | Cape Town, South Africa |
| Africa's Leading Game Reserve Brand 2019 | Singita Game Reserves |
| Africa's Leading Green Hotel 2019 | Aberdare Country Club, Kenya |
| Africa's Leading Hotel 2019 | Selman Marrakech, Morocco |
| Africa's Leading Hotel Brand 2019 | Hilton Hotels & Resorts |
| Africa's Leading Hotel Residences 2019 | The Residences at Leopard Beach Resort & Spa |
| Africa's Leading Hotel Suite 2019 | Nelson Mandela Platinum Suite @ Saxon Hotel, Villas and Spa, South Africa |
| Africa's Leading Inflight Magazine 2019 | Sawubona (South African Airways) |
| Africa's Leading Low-Cost Airline 2019 | fastjet |
| Africa's Leading Luxury Hotel 2019 | The Twelve Apostles Hotel & Spa, South Africa |
| Africa's Leading Luxury Hotel Villa 2019 | Villa Two @ Ellerman House, South Africa |
| Africa's Leading Luxury Island 2019 | Thanda Island, Tanzania |
| Africa's Leading Luxury Lodge 2019 | Silvan Safari, South Africa |
| Africa's Leading Luxury Private Villa 2019 | Villa iZulu @ Thanda Safari, South Africa |
| Africa's Leading Luxury Resort 2019 | Mandarin Oriental, Marrakech, Morocco |
| Africa's Leading Luxury Safari Lodge 2019 | Omaanda |
| Africa's Leading Luxury Tented Safari Camp 2019 | Olare Mara Kempinski Masai Mara, Kenya |
| Africa's Leading Luxury Tour Operator 2019 | Abercrombie & Kent |
| Africa's Leading Luxury Train 2019 | The Blue Train |
| Africa's Leading Meetings & Conference Centre 2019 | Kenyatta International Convention Centre, Nairobi, Kenya |
| Africa's Leading Meetings & Conference Destination 2019 | Durban, South Africa |
| Africa's Leading MICE Hotel 2019 | The Westin Cape Town, South Africa |
| Africa's Leading National Park 2019 | Serengeti National Park, Tanzania |
| Africa's Leading New Hotel 2019 | Pangolin Chobe Hotel, Botswana |
| Africa's Leading Online Travel Agency 2019 | FlightSite |
| Africa's Leading Private Game Reserve 2019 | Shambala Private Game Reserve, South Africa |
| Africa's Leading Private Island Resort 2019 | Azura Quilalea Private Island, Mozambique |
| Africa's Leading Resort 2019 | Sun City Resort, South Africa |
| Africa's Leading River Cruise Company 2019 | Zambezi Queen Collection |
| Africa's Leading Safari Company 2019 | Go2Africa |
| Africa's Leading Safari Lodge 2019 | Thanda Safari Lodge at Thanda Safari, South Africa |
| Africa's Leading Serviced Apartments 2019 | Lawhill Luxury Apartments, South Africa |
| Africa's Leading Sports Resort 2019 | Legend Golf & Safari Resort, South Africa |
| Africa's Leading Tented Safari Camp 2019 | Finch Hattons, Kenya |
| Africa's Leading Tour Operator 2019 | Pollman's Tours & Safaris |
| Africa's Leading Tourist Attraction 2019 | Table Mountain, South Africa |
| Africa's Leading Tourist Board 2019 | Kenya Tourism Board |
| Africa's Leading Travel Agency 2019 | Club Travel, South Africa |
| Africa's Leading Travel Club 2019 | Beekman Managed Portfolio |
| Africa's Leading Travel Management Company 2019 | FCM Travel Solutions |
| Africa's Most Romantic Resort 2019 | Anantara Medjumbe Island Resort, Mozambique |
| Africa's Responsible Tourism Award 2019 | Gamewatchers Safaris |
Algeria
Angola
Benin
Botswana
Burkina Faso
Burundi
Cameroon
Cape Verde
Cote d'Ivoire
Democratic Republic of Congo
Egypt
Eswatini
Ethiopia
Gabon
Gambia
Ghana
Kenya
Malawi
Mali
Morocco
Mozambique
Namibia
Nigeria
Rwanda
São Tomé & Príncipe
Senegal
South Africa
Sudan
Tanzania
Tanzania » Zanzibar
Togo
Tunisia
Uganda
Zambia
Zimbabwe