Parts of Brazil are dangerous to visit, among them Belem the capital city of the State of Para. Despite other reports, Vanda's Bar in Para, Brazil was not a place tourists should hang on. The bar, known as Vanda's (Wanda) Bar and Drinks was known by locals as having great music and lots of drugs.
In late March, the federal Brazil government sent National Guard troops to Belém to reinforce security to Belem.
The shocking rumor is the deadly attack may have been carried out by those that are hired to protect and to serve, by police.
Last week, three policemen were killed near Belem and some reports claim their deaths could be linked to the bar massacre. Maria Ivanilza Pinheiro Monteir, the owner of the local bar was killed.
Among those killed were Leandro Breno Tavares da Silva, 21, the bar's DJ and Paulo Henrique Passos Ferreira, 25, a waiter, along with those believed to be customers, Márcio Rogério Silveira Asunción, 37, Sérgio dos Santos Oliveira, 31, Tereza Raquel da Silva Franco, 33, Samira Tavares Cavalcante, 35, Flávia Teles Farias da Silva, 32, Meire Helen Sousa Fonseca (age not disclosed).
According to police, local residents said the incident happened 'really quickly'. The three suspects entered the bar, full of customers, and opened fire straight away.  The gunmen are said to have traveled on three motorcycles and a silver car.  They escaped using routes connecting to the building, which further led authorities to believe that the bar was a drug den. The Homicide Division of the Civil Police is conducting interviews and has launched a manhunt for the suspects. No one has been arrested.
General delegate Alberto Teixeira stated that the deaths were execution style, with some of the victims suffering head wounds while others were shot multiple times.
Anderson Gonçalves dos Santos is said to have been the person who survived the attack, but his injuries have not been revealed.
The area where the incident occurred is considered one of the most violent in Belém, the capital of Pará state, north Brazil. The region was one of the seven neighborhoods to received reinforcements troops from the National Public Security Force in March this year to boost security.
The capital city of the state of Para is one of the oldest in Brazil and it's not by chance that it is known as the mango tree city. Some streets are true mango tree corridors that exude a pleasant fragrance and provide shade for those who go through them.
Belem is one of those cities that have everything, from beaches to a forest, from historical landmarks to modern tourist points. And on top of all that, there is the intense fragrances, flavors, customs, sounds of Para and the tropical spark of its people.
Walking through the streets in Belem, you get to Cidade Vellha (Old City) or Feliz Lusitania, one of the most important cultural and historical references in the state.
Brazil hit a record high of 64,000 homicides in 2017, 70% of which were due to firearms, according to official statistics.
Much of Brazil's violence is gang-related.  Rio de Janeiro, the country's second biggest city, experiences daily shootouts between rival gangs and also between police and criminals, battles that often result in the deaths of innocent bystanders. Fogo Cruzado, a group that monitors shootings in the Rio metropolitan area, says there were 2,300 shootings in Rio and its suburbs during the first 100 days of this year.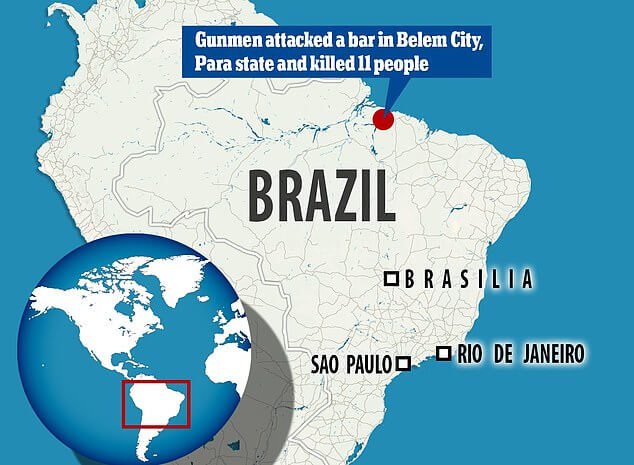 Killings attributed to police gunfire in Rio de Janeiro state have reached a record high, rising 18% in the first three months, in a spike partly attributed to a campaign of a zero tolerance for criminals being pushed by state leaders.
One of new President Jair Bolsonaro's main campaign promises was that he would loosen Brazil's strict gun laws, arguing that because criminals are well-armed with illegally obtained guns, "upstanding citizens" should have the right to defend themselves with legally bought guns. Bolsonaro has made good on that campaign promise with two presidential decrees that make buying guns easier, though federal prosecutors are seeking to get the courts to block that move.