Swoop started service to London, Ontario, Canada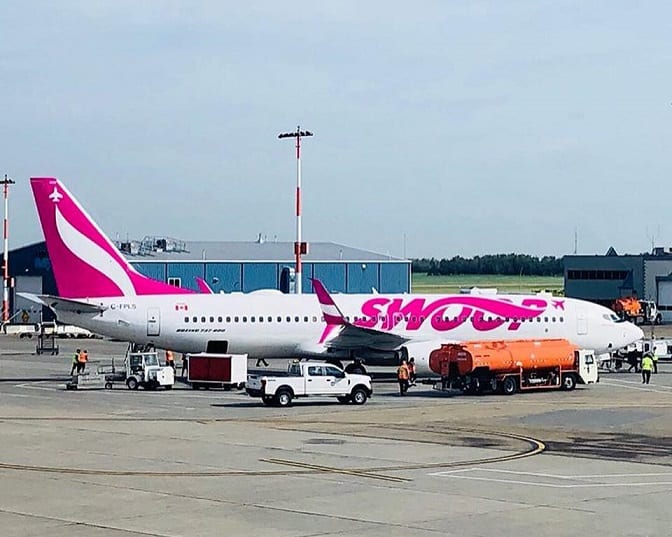 Iinaugural flight departs Edmonton International Airport (YEG) at 7:00 a.m. local time and will be welcomed by a water cannon salute upon arrival at London International Airport (YXU) at 12:25 p.m. local time. Travelers at both airports will be invited to take part in a gate celebration that includes refreshments, sweet treats and gifts.
This is the first of three new routes launching in London, with service to Abbotsford, BC (YXX) and Halifax, NS (YHZ) beginning on May 24, 2019.
"The kick-off to our summer schedule and beginning of a very busy inaugural season starts with today's flight between London, ON and Edmonton, AB," said Steven Greenway, President of Swoop. "Over the course of the next two months we will be celebrating the launch of seven new routes and further establishing our place as a top choice for travellers in the Canadian ultra-low cost space."
"Today's inaugural flight marks the start of an exciting expansion to our Canadian network with Swoop," said Michael Seabrook, CEO and President of the London International Airport. "We are now the second focus city in Ontario for Swoop service, and among the first airports in Canada to offer true ultra-low-cost flight options to passengers. We expect these new flights will be popular with travellers, leading to the potential for more destinations from Swoop in the future."
"We are very pleased to have this connection into Southwestern Ontario with the new daily, non-stop service to London," said Tom Ruth, President and CEO of Edmonton International Airport. "Destinations like London create excellent travel options for Edmontonians travelling to Ontario, while also supporting tourism and business growth in our region."