Presidents' Day weekend travel – what to expect?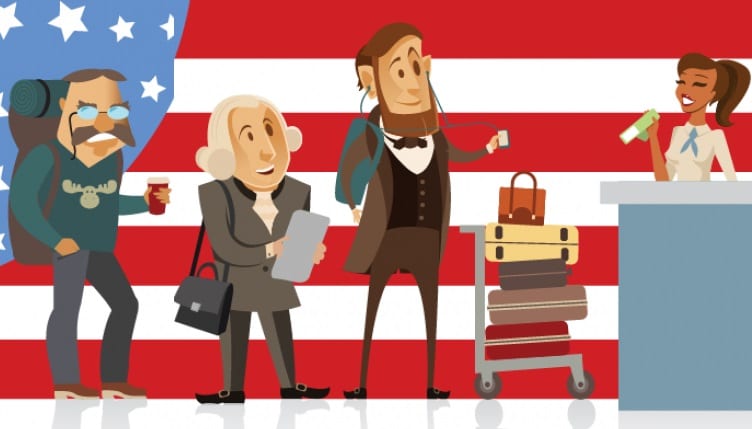 Air travel on Presidents' Day weekend hit a record high in 2018, with more than 14 million people traveling by plane. When looking at travel patterns from last year, travel experts found that Friday, February 16th was the busiest travel day within this weekend.
Below is more data from last year's Presidents' Day Weekend travel period from Thursday, February 15 – Tuesday, February 20, 2018, which can help inform travelers about what to expect this year, especially as tourism continues to grow.
Busiest travel day: Friday, February 16th
Number of disrupted passengers: Around 3.3 million
Number of disrupted flights: Around 33,400
10 most popular flight routes were:
1. Los Angeles International Airport (LAX) → San Francisco International Airport (SFO)
2. San Francisco International Airport (SFO) → Los Angeles International Airport (LAX)
3. New York LaGuardia Airport (LGA) → Chicago O'Hare International Airport (ORD)
4. Chicago O'Hare International Airport (ORD) →New York LaGuardia Airport (LGA)
5. Los Angeles International Airport (LAX) → New York J F Kennedy International Apt (JFK)
6. New York J F Kennedy International Apt (JFK) → Los Angeles International Airport (LAX)
7. Los Angeles International Airport (LAX) → Las Vegas McCarran International Apt (LAS)
8. Las Vegas McCarran International Airport (LAS) → Los Angeles International Airport (LAX)
9. Kahului Airport (OGG) → Honolulu Airport (HNL)
10. Honolulu Airport (HNL) → Kahului Airport (OGG)
10 most disrupted flight routes were:
1. Denver International Airport (DEN) → Phoenix Sky Harbor International Airport (PHX)
2. New York LaGuardia Airport (LGA) → Toronto Lester B Pearson International Airport (YYZ)
3. Minneapolis/St Paul Intnl Airport (MSP) → Phoenix Sky Harbor Intnl Airport (PHX)
4. Los Angeles International Airport (LAX) → Phoenix Sky Harbor International Airport (PHX)
5. Salt Lake City (SLC) → Phoenix Sky Harbor International Airport (PHX)
6. Dallas Love Field (DAL) → Houston William P. Hobby Airport (HOU)
7. Denver International Airport (DEN) → Salt Lake City (SLC)
8. Kahului (OGG) → Honolulu (HNL)
9. Chicago O'Hare International Airport (ORD) → Phoenix Sky Harbor International Airport (PHX)
10. San Diego International Airport (SAN) → Phoenix Sky Harbor International Airport (PHX)