Norwegian Air increases service from US to Martinique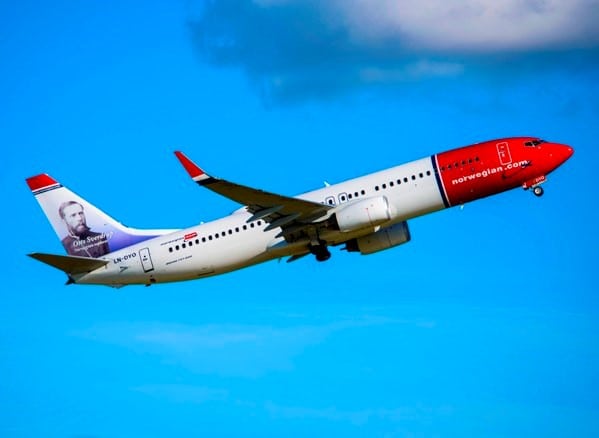 Norwegian Air announced it is increasing its US winter seasonal routes to Martinique. The Fort Lauderdale to Martinique service will resume on October 31, 2018, with four flights weekly. It represents an increase from three flights per week during winter 2017/18. The New York-JFK to Martinique service will resume on October 28, 2018, with six flights, two flights more than the previous season.
The airline also announced a new four times weekly route from Martinique to Cayenne in French Guiana. The winter seasonal service from Martinique to Cayenne – Félix Eboué Airport Cayenne will launch on October 31, 2018, and operate four times weekly on Mondays, Wednesdays, Fridays and Saturdays.
Norwegian Air is also opening a new route from Canada; the airline will launch seasonal service from Montréal, to Martinique Aimé Césaire International Airport on November 1, 2018, and operate three times per week on Tuesdays, Thursdays and Saturdays.
"We are very pleased with Norwegian's increase of air service from the United States and with the new route between our island and French Guiana. The new service from Montreal to Fort-de-France is also excellent news. The additional offer provided by Norwegian will make Martinique more accessible than ever and increase traffic from and to this crucial Canadian market. This is an opportunity for us to expand our reach and showcase Martinique Magnifique, its multiple assets, its vibrant culture, its authenticity, along with the warmth of its people. We are looking forward to see more and more Quebecois making Martinique their own!" said Karine Mousseau, Martinique Tourism Commissioner.
"Norwegian is excited to return for its third season to the magnificent island of Martinique, this year expanding our service to Cayenne and Montreal. We were the first airline in more than 20 years to link Martinique to New York City and we will now be the only airline to connect the French Caribbean with both Canada and the United States, as well as French Guiana," said Thomas Ramdahl, Chief Commercial Officer, Norwegian.
"The new opening from Montreal and Cayenne, as well as the increase of the existing service from New York and Fort Lauderdale, are the concrete results of the efforts made by the Martinique Tourism Authority and all stakeholders, to position Martinique as a destination of choice on the market of the Americas adds Karine Mousseau. "This increase also represents a pledge of trust from Norwegian Air, which has become a proactive and efficient partner over the seasons, seeing our island as a must-visit destination for their passengers. "